This winter has been particularly long, dreary, wet and cold in California.  After five years of drought, we needed the rain and snow but hated the gloomy, clammy weather.  To add to the gloom I had to have eye surgery.  But, I recovered quickly and the weather has turned the corner to summer.  This has me remembering Hawaii and the Luau.  The Luau is almost an obligatory event for travelers when they go to Hawaii.  A luau, for the few who never heard of one, is a Hawaiian gathering that includes food and entertainment.  On the island of Oahu there are at least 7 places that offer this event.  Perhaps the best known is at the Polynesian Cultural Center.  A trip there is usually an all day affair allowing you to walk through different areas that showcase the different cultures that make up the Polynesian Pacific.  However, if you don't have all day, you can go to the other luaus which offer an evening of food and entertainment.
The one we attended was the Paradise Cove Luau which was 10 minutes walking time from the Aulani Resort in Ko Olina.   In an idyllic setting with its own cove, this is considered one of the better luaus on Oahu.  Upon entering the Paradise Cove grounds you follow a path to an area with a photo station for the obligatory souvenir picture a male and female cast member. (Of course the guy is buff and the girl is beautiful.)   Once past this, there are craftsmen, dance exhibits and a small amphitheater on the grounds.  I will say that the entertainment was good and the food was great. 
The Paradise Cove Luau is situated on the leeward side of Oahu.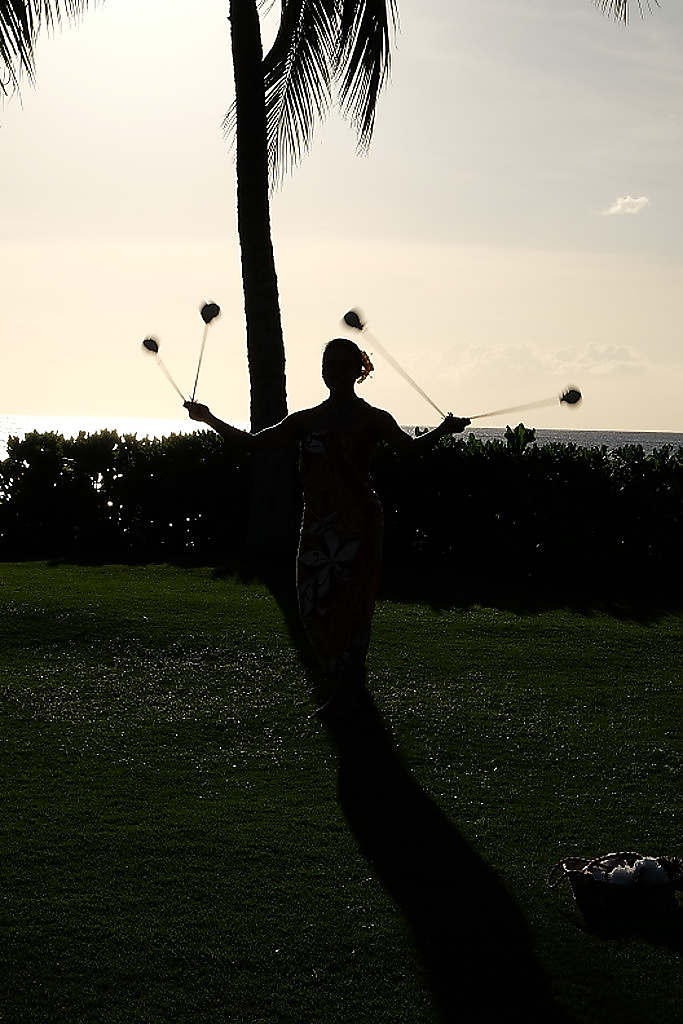 Backlit by the setting sun, a young lady demonstrates a Polynesian dance.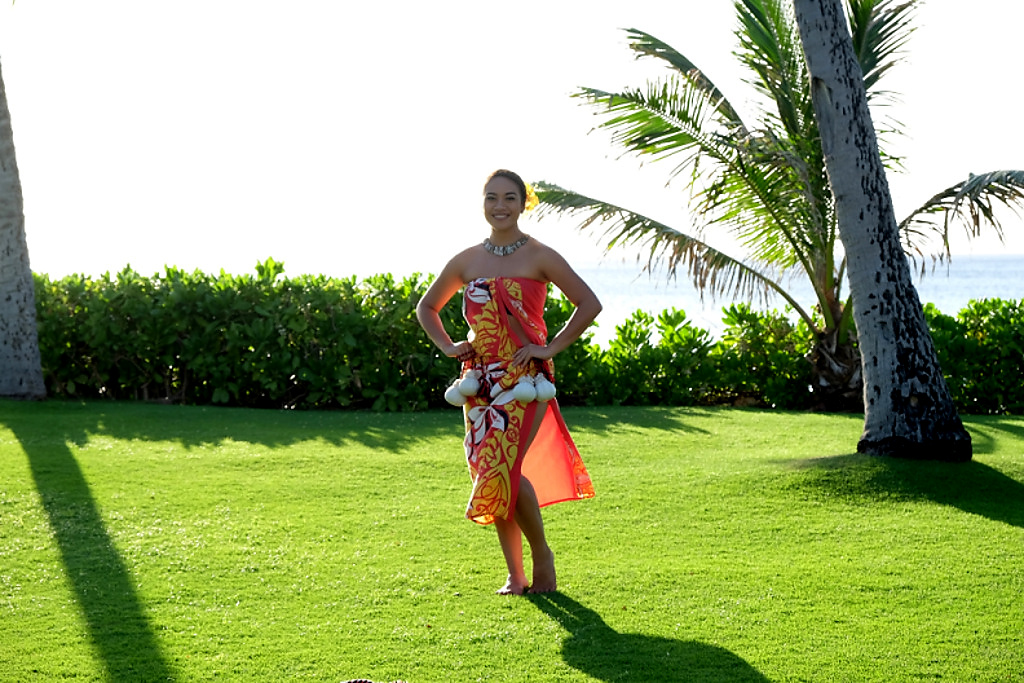 After adjusting for the backlight, you can now see the beautiful dancer in a paradise setting.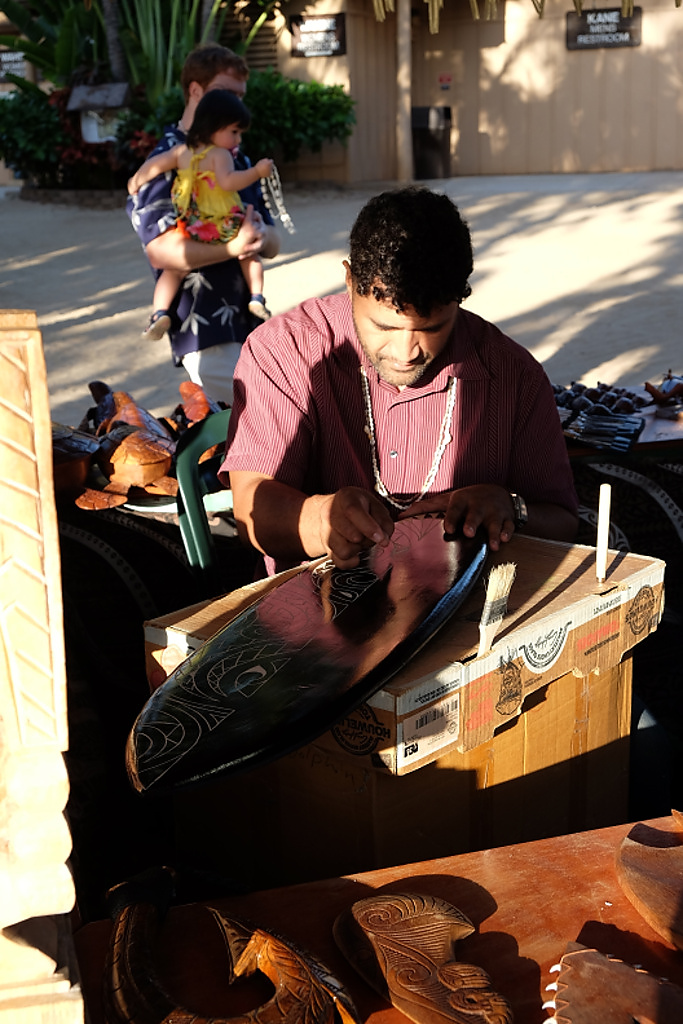 Woodworkers are there making items on the spot.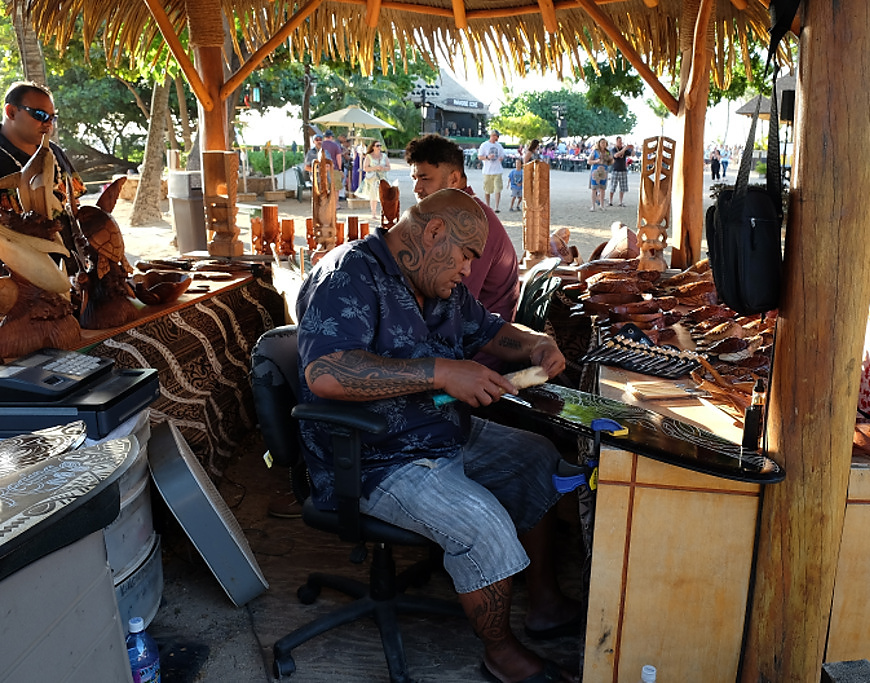 And yes, some Polynesian men are heavily tattooed.  It is a cultural tradition for them.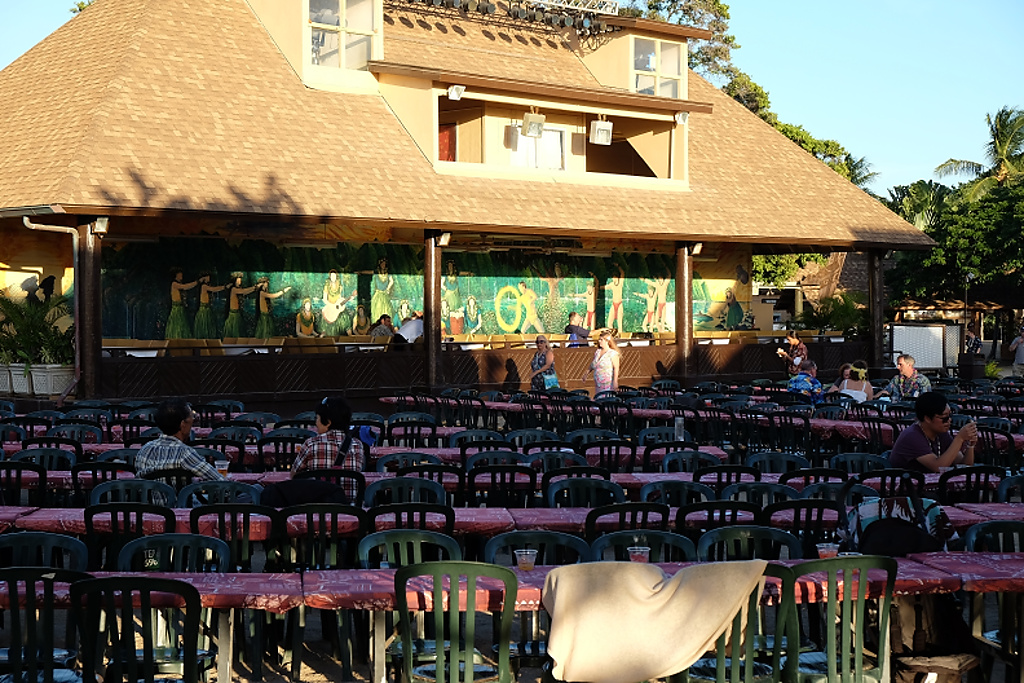 This is the main stage where all the night's entertainment will take place.  As you can see from the seating, the venue can accommodate a lot of people.  They said there were 500 people there this night.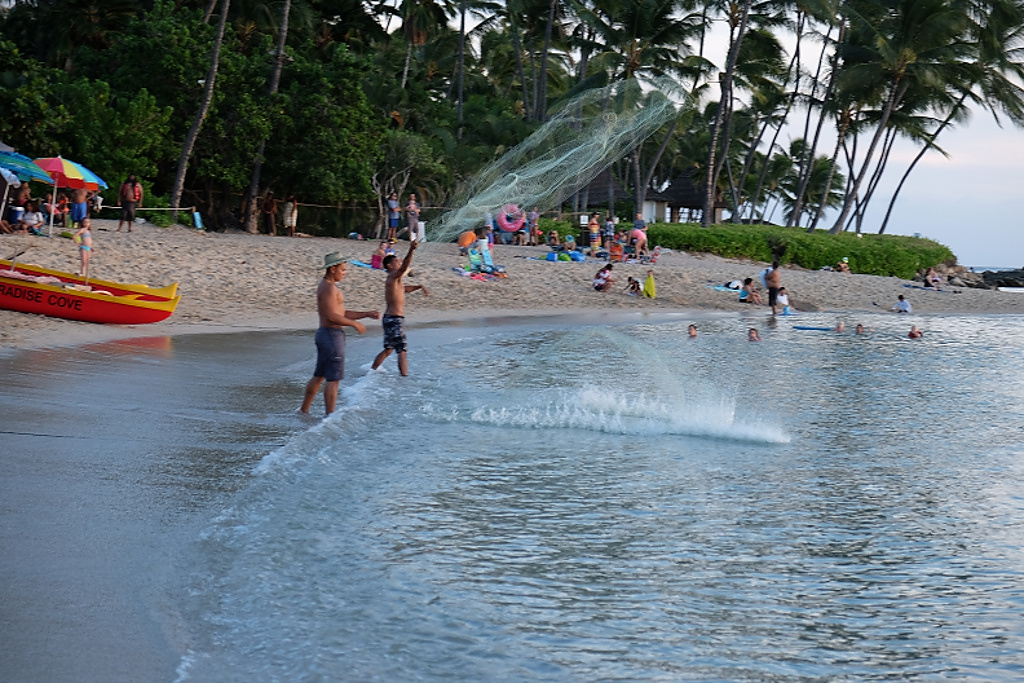 Demonstrations of different Polynesian styles of fishing are showcased in the cove.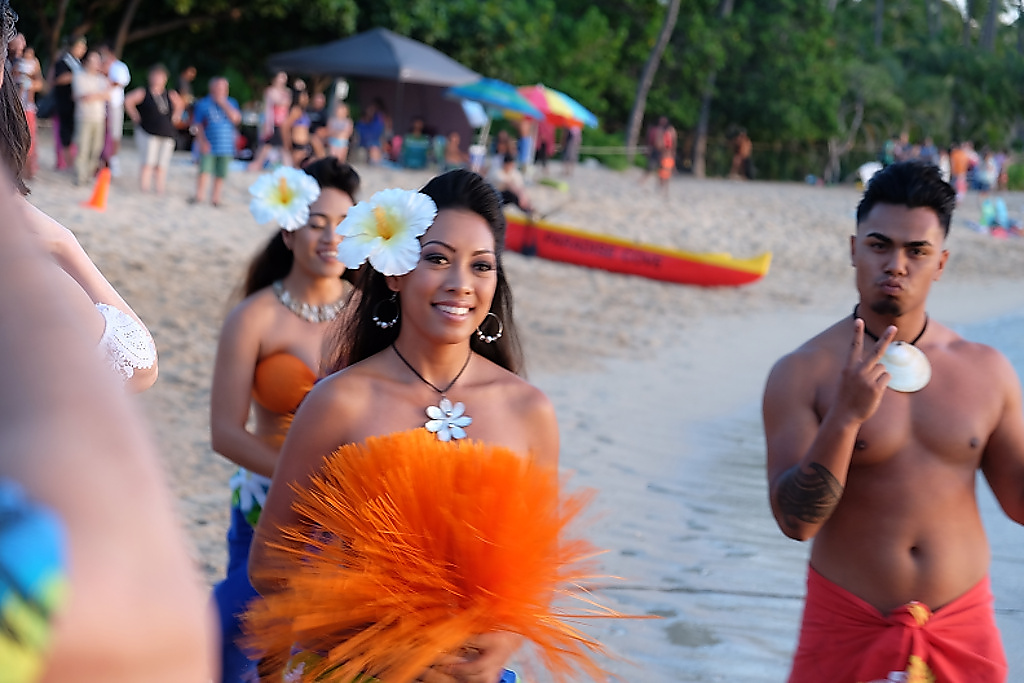 Even at this demonstration they have beautiful women and buff guys for the guests to look at.  You will see both of these dancers later.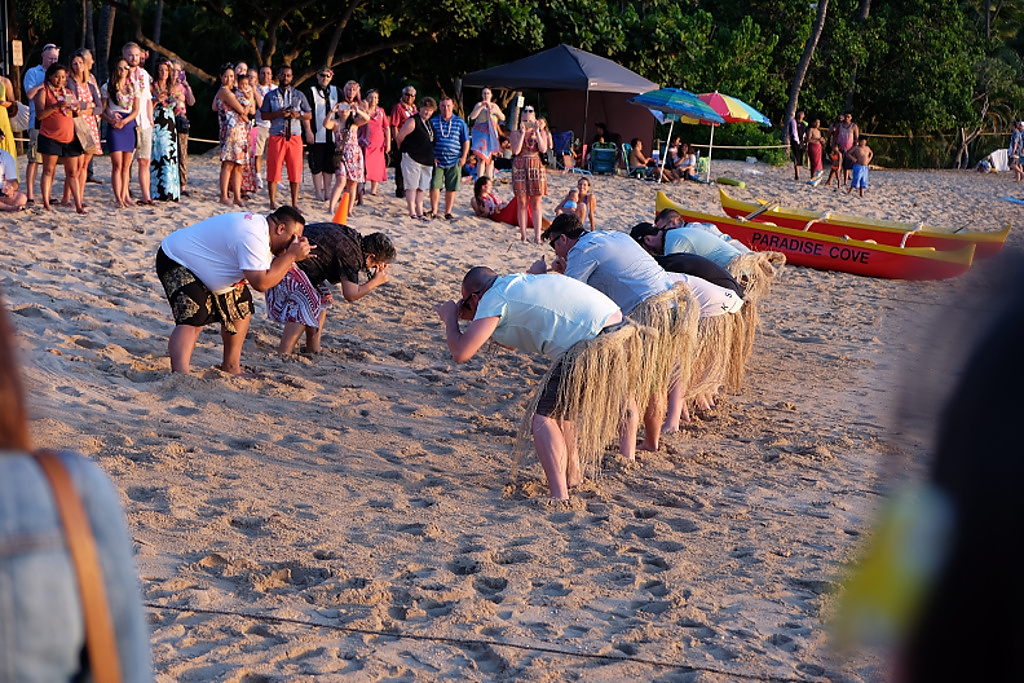 And, of course, what luau would be complete without tourists being, well, tourists.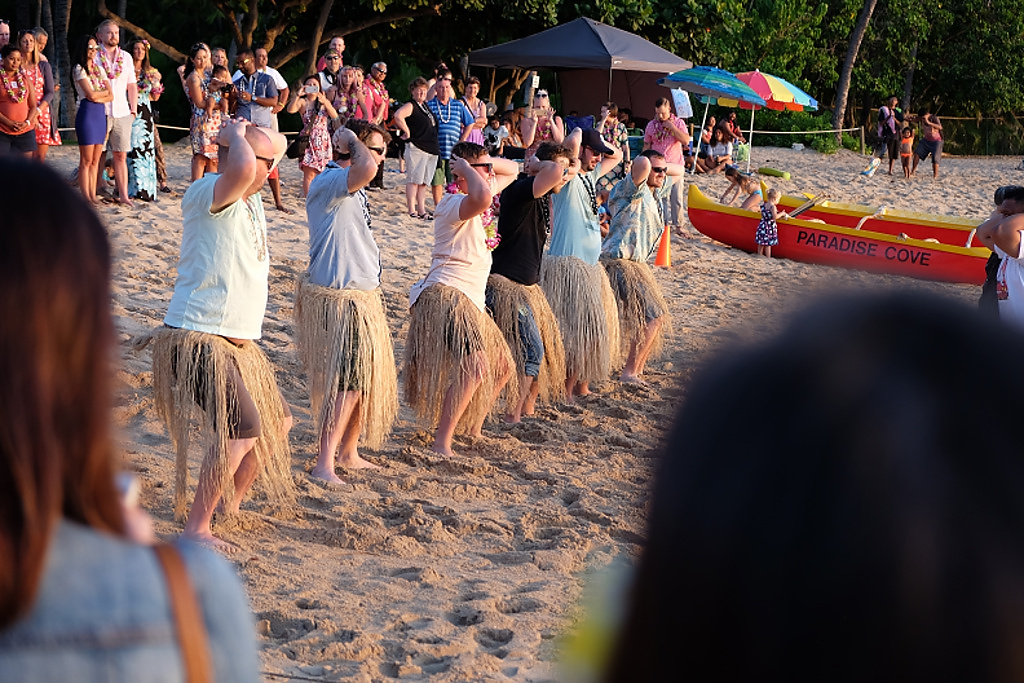 Remember, this is done in good fun and to demonstrate some of the Polynesian culture.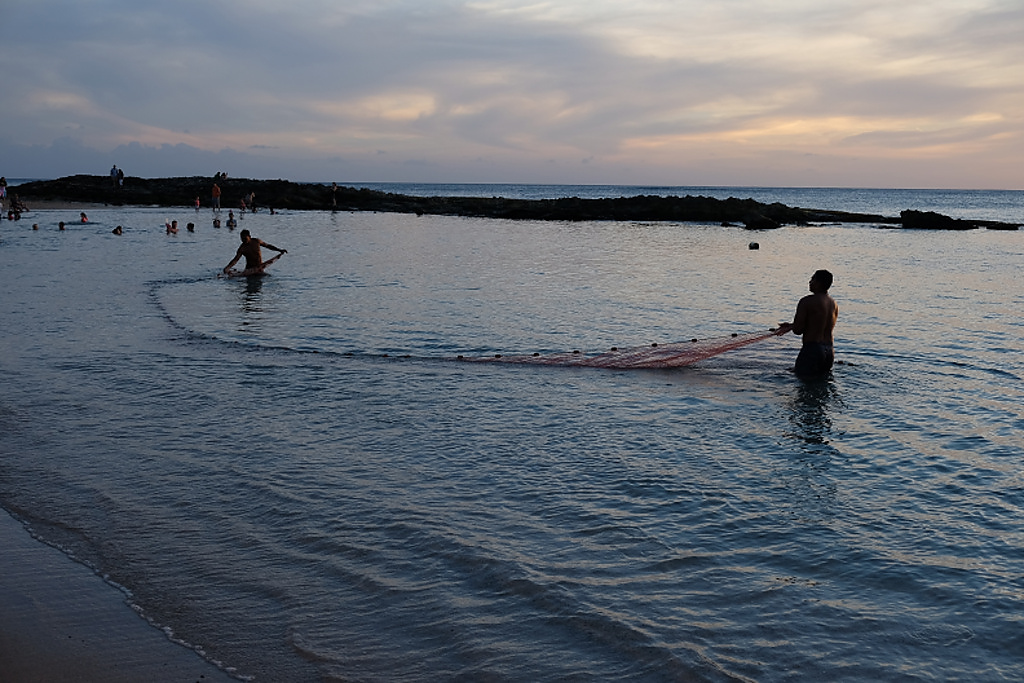 But the cove is also beautiful and in the sunset offers up more of the idyllic setting.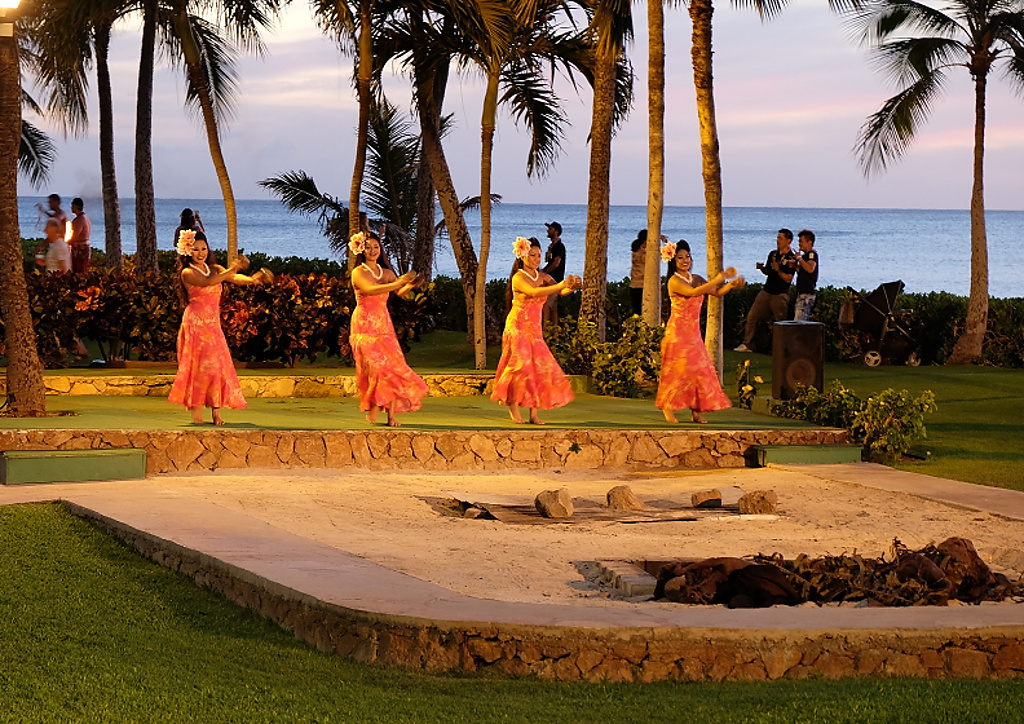 In the small amphitheater there is more dance demonstrations going on.  In the foreground are roasting pits.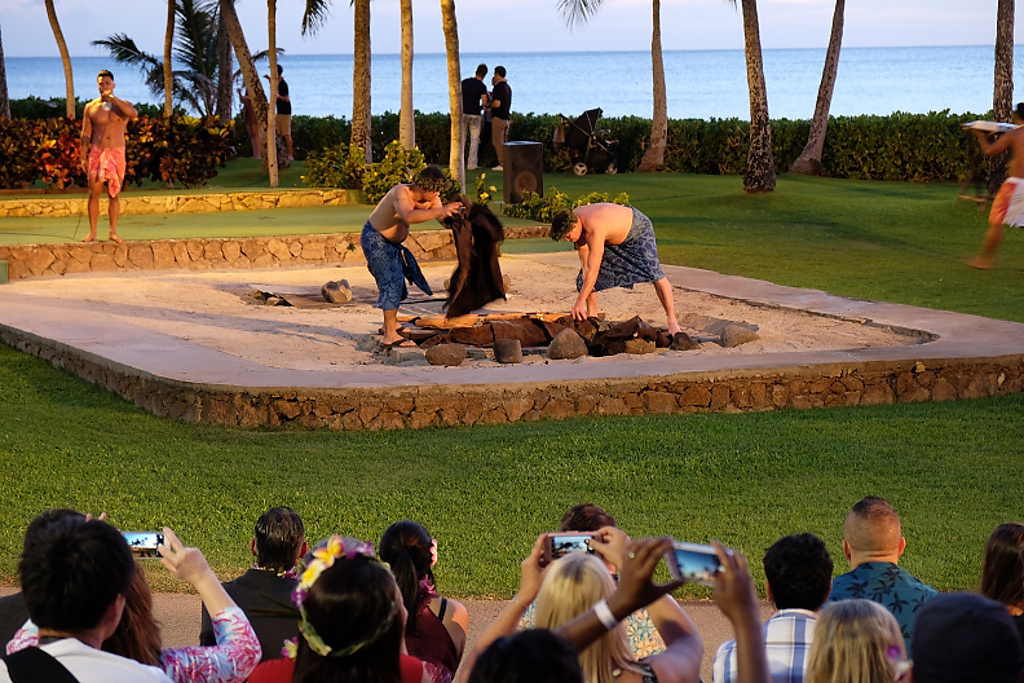 This is where they roast at least one of the pigs served for the feast.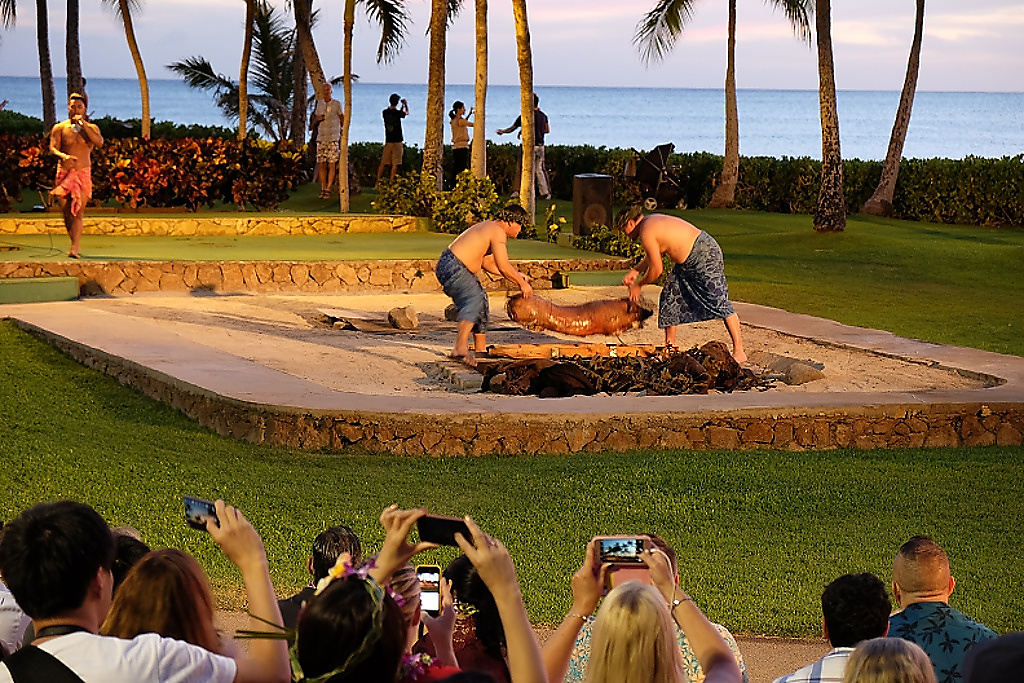 The "guest of honor" is revealed.  Yes, that is a whole pig that was roasted in that pit.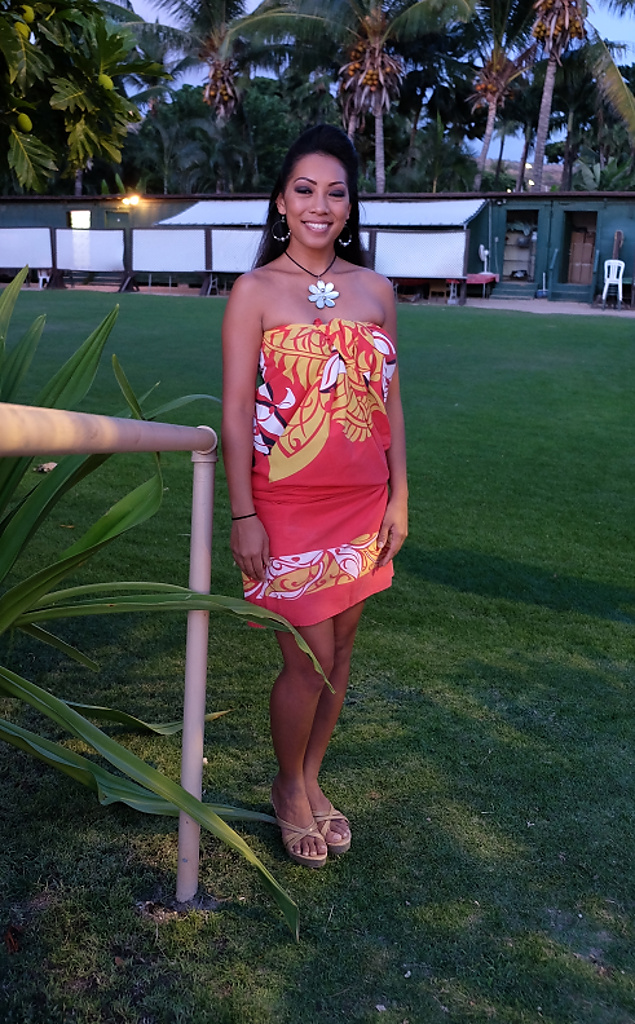 This is another of the beautiful ladies that works at the luau.  You see a lovely smile but may think her eyes are closed.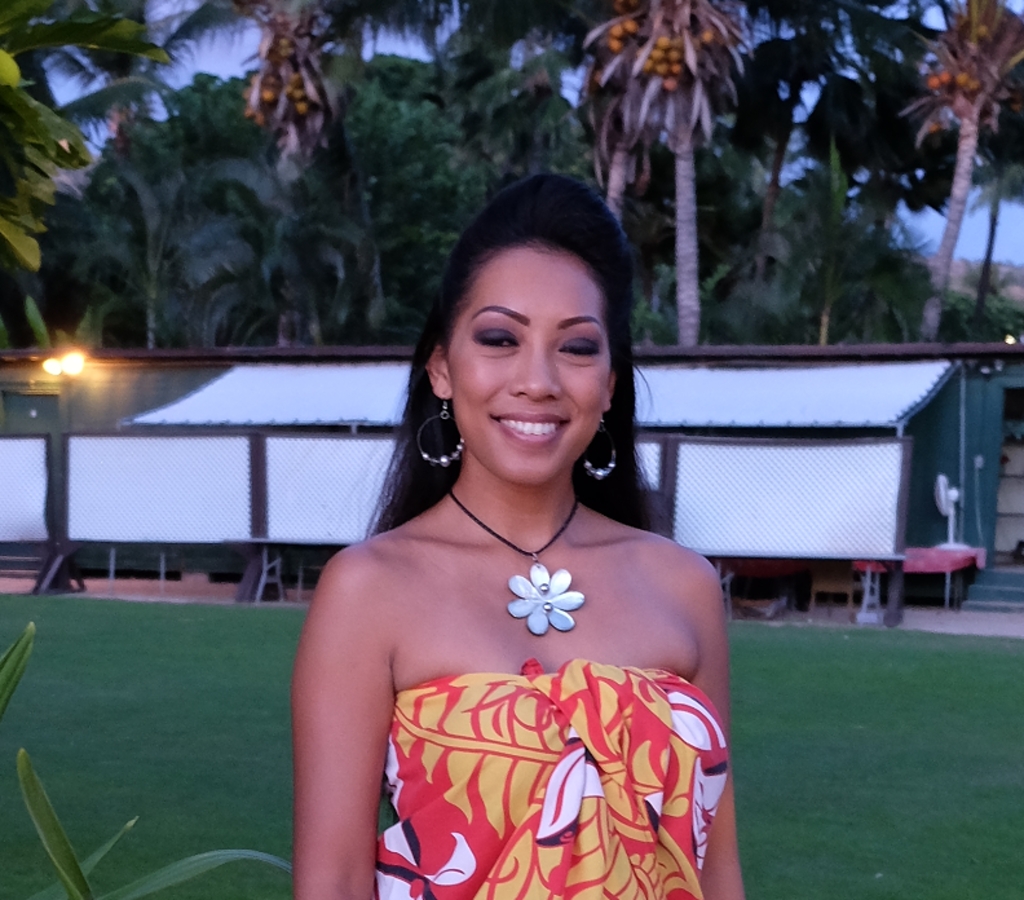 Closer inspection of the picture shows her eyes aren't closed but she is giving you a beautiful smile with a playful wink.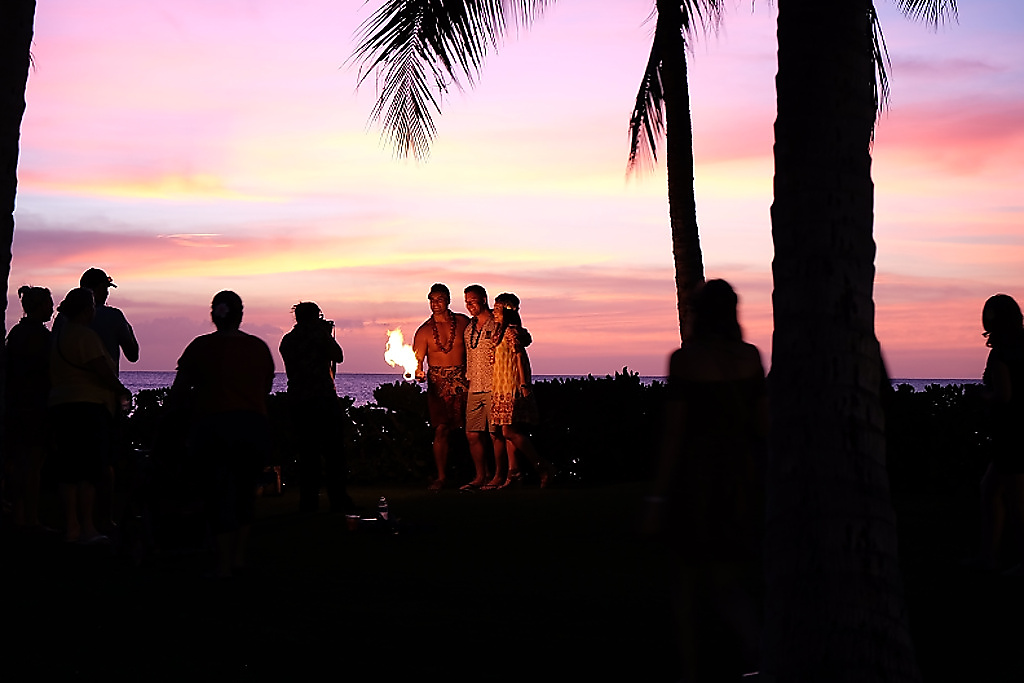 Elsewhere around the cove people are having their photos taken with cast members.  Here is the Samoan fire dancer posing with two guests.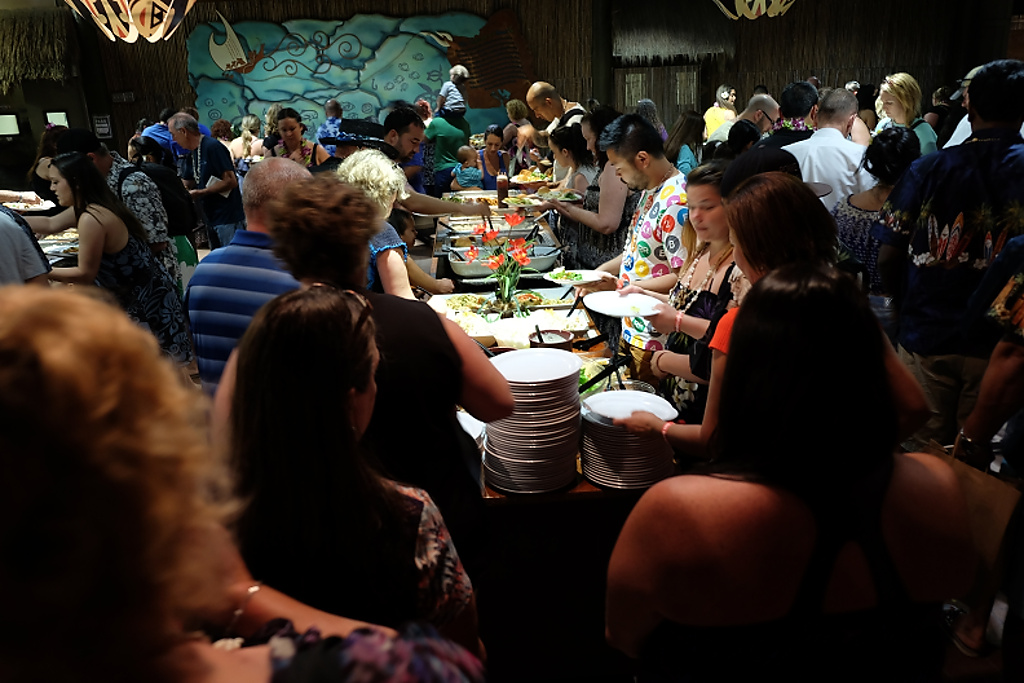 Finally, the call goes out that dinner is served.  So we trot off and join the line.  These dinners are buffet style but, if you want to pay extra, they will bring you your dinner.  I am a lover of pork so I want to serve myself and get plenty of the roasted pork.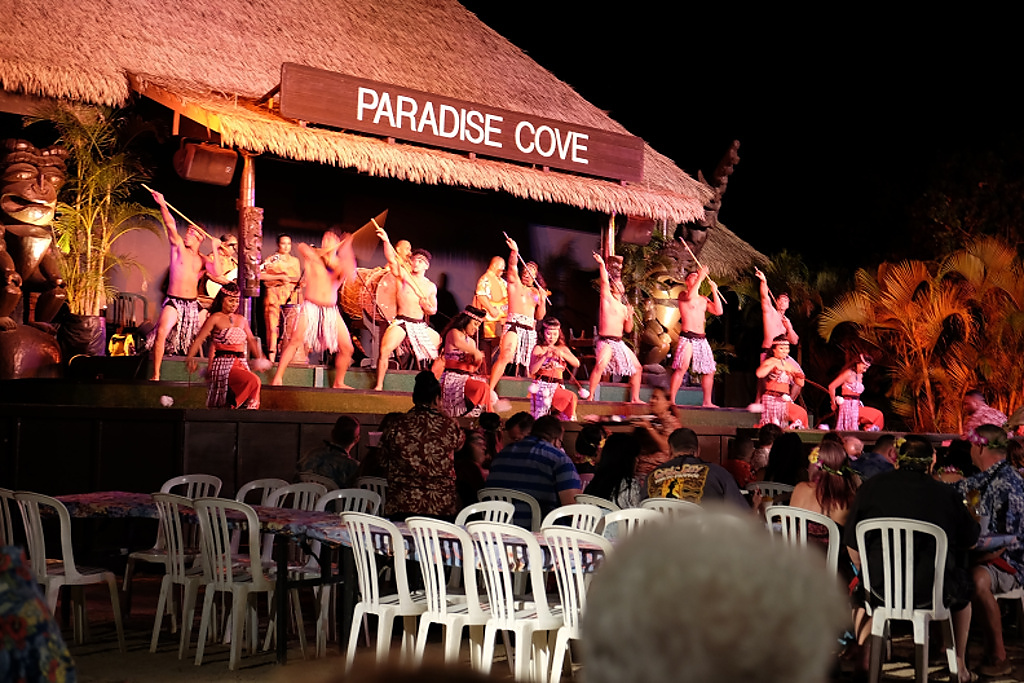 After you eat, the dance demonstration begins on the main stage.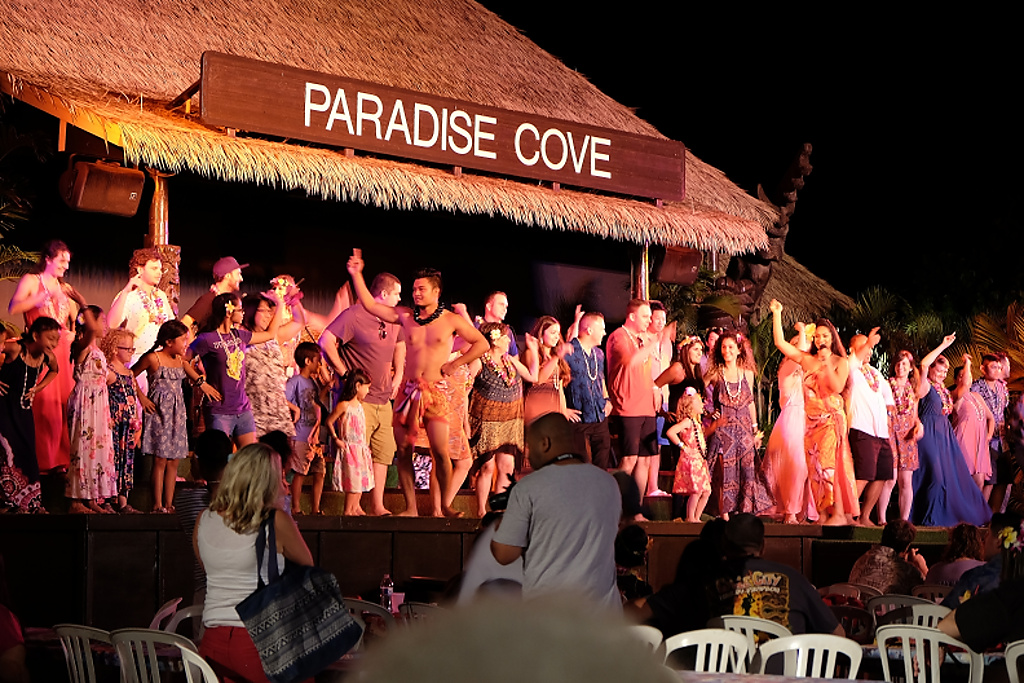 They make it a family affair and make sure to include the children in the show.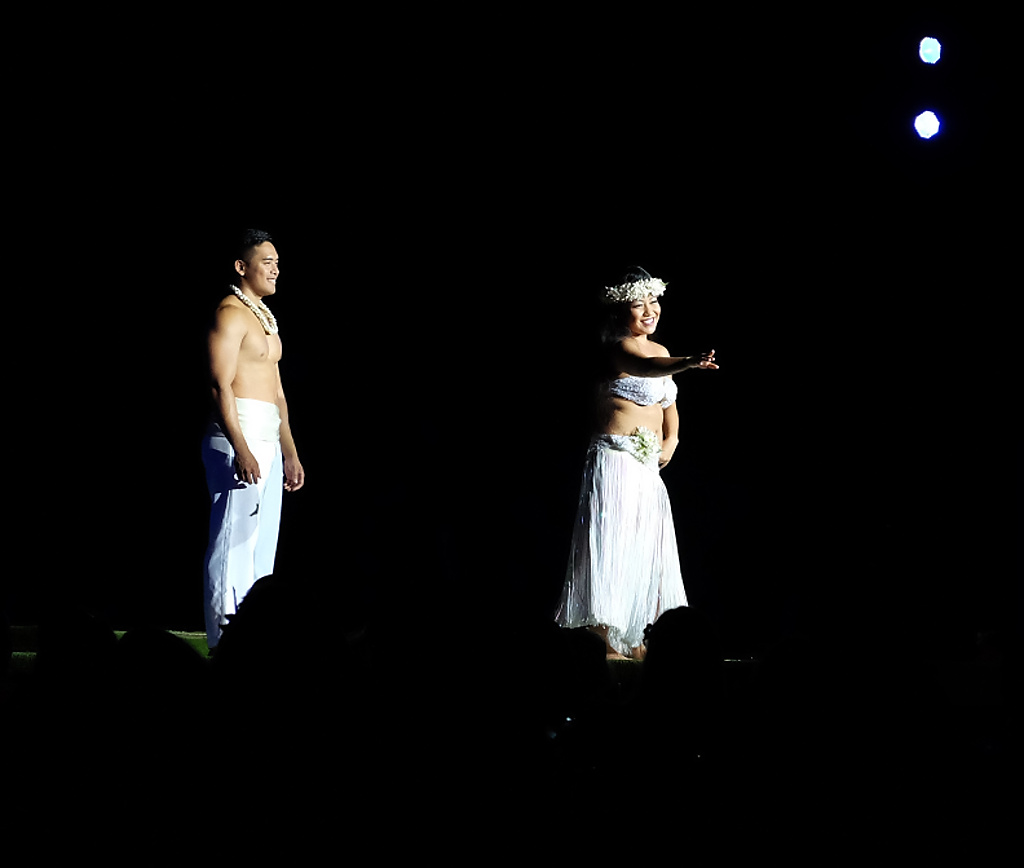 Of course there has to be two lovers singing the Hawaiian Wedding Song.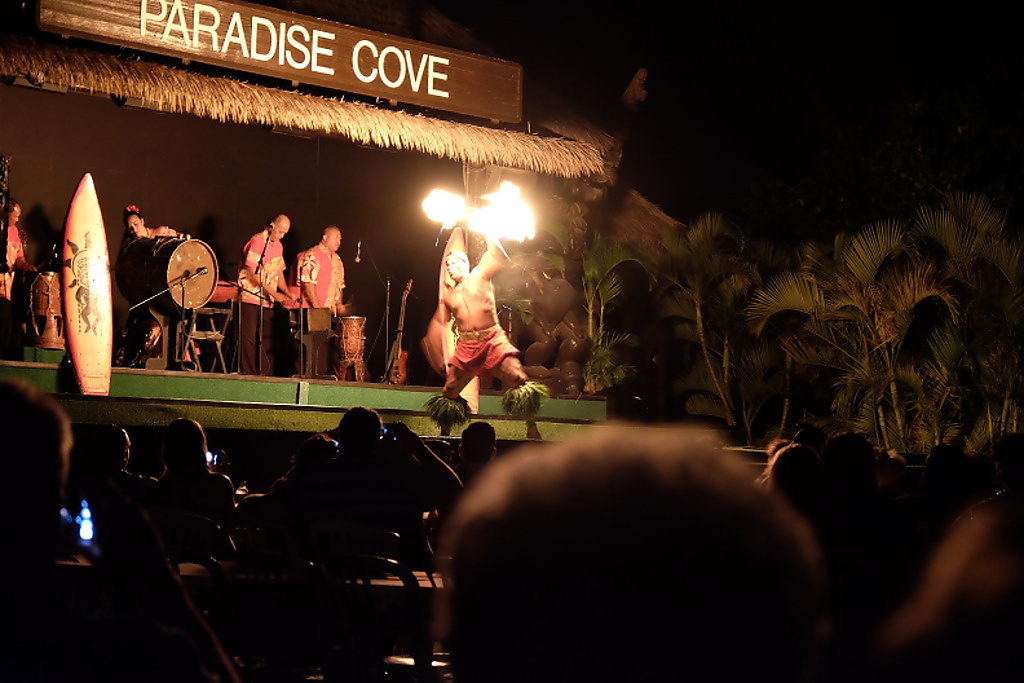 No luau would be complete without the Samoan Fire Torch dancer.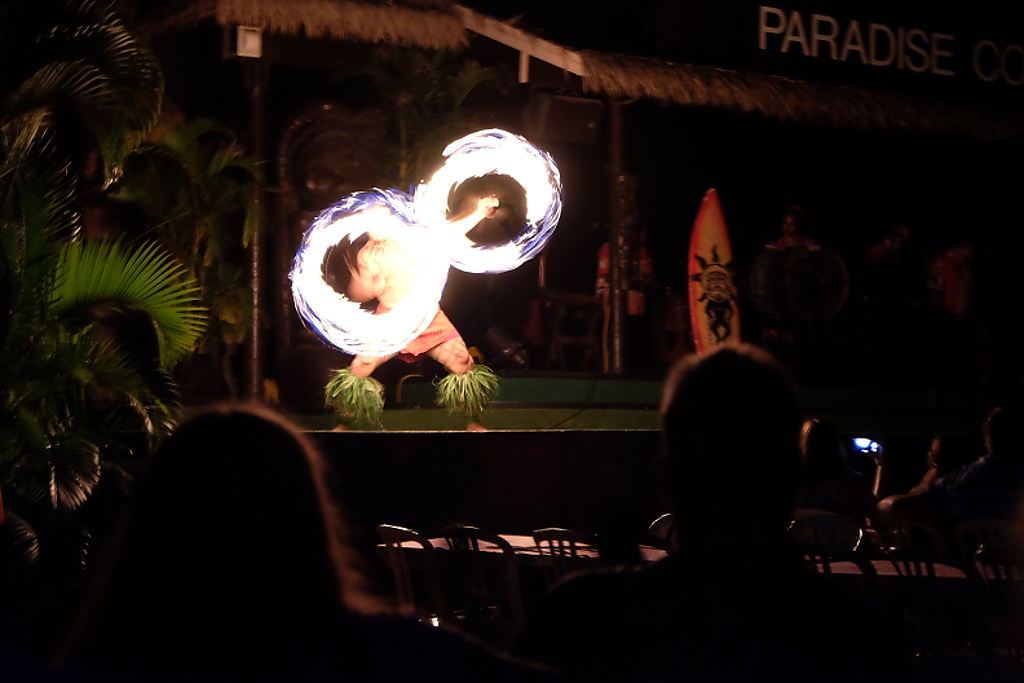 He can even twirl two torches at once.  I say this because I would probably incinerate myself.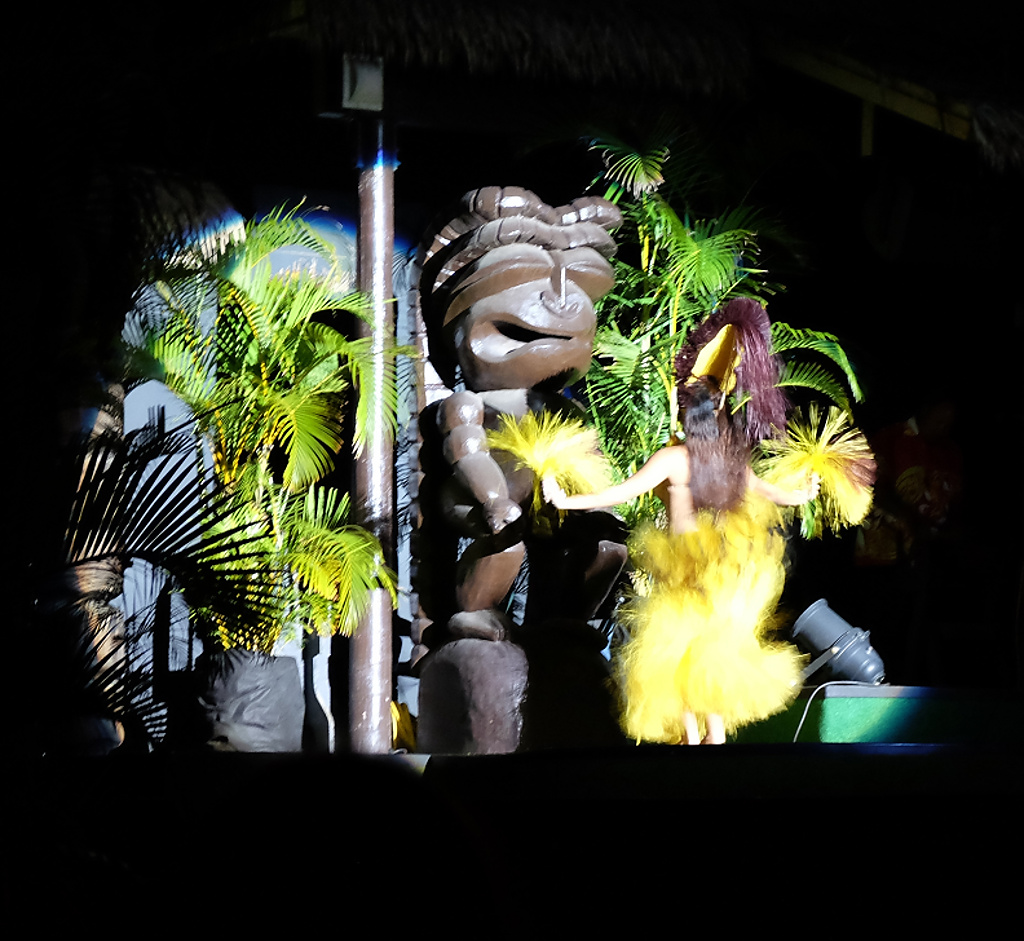 Then comes the Tahitian dancers.  As you can see from the blur, the dancer is really moving those hips!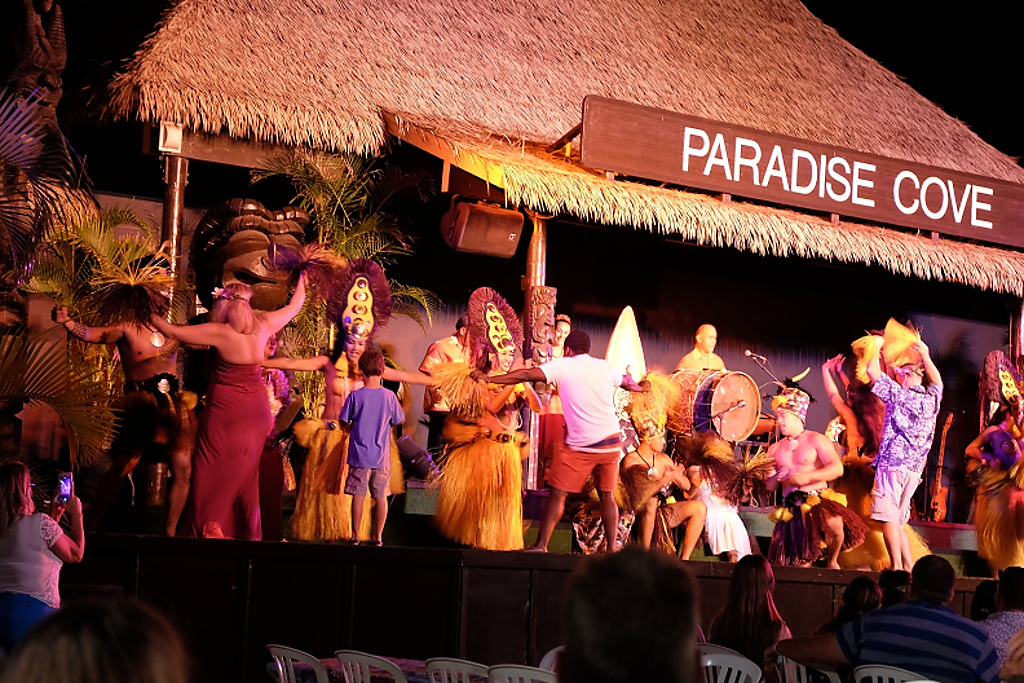 Once again the audience members are brought up to dance this time with the Tahitian dancers.  Yes, even children are included.  As I said, they make this a family affair.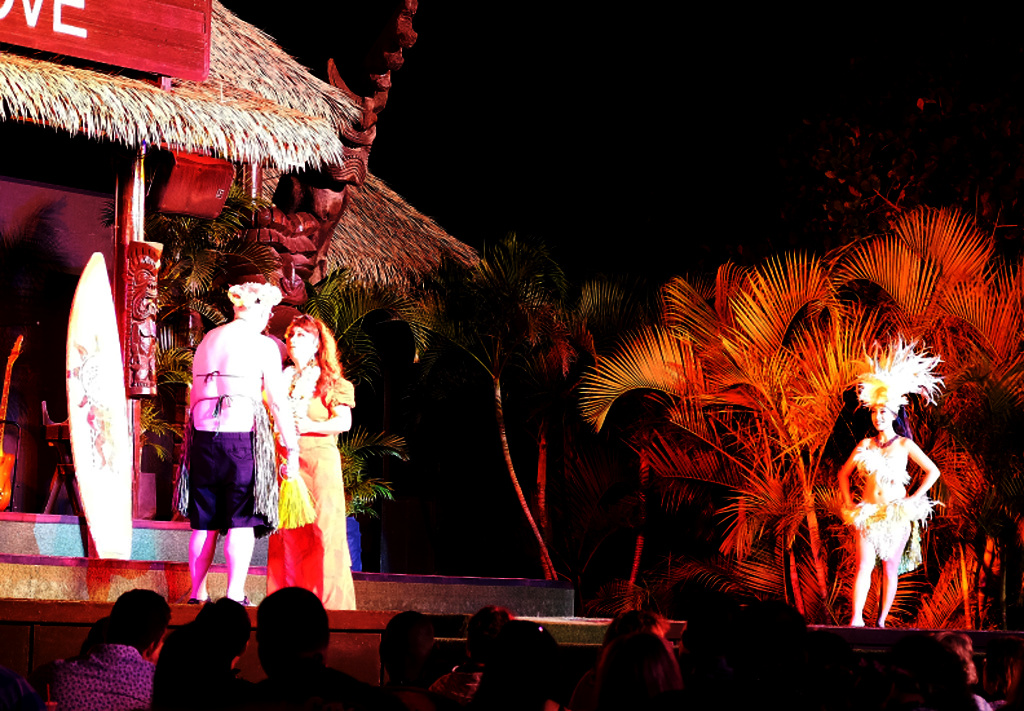 Now we come to what I call the DOH! part of the show.  The MC bring out a male tourist I will call "the Mark," dressed in grass skirt and coconut bra and the following transpired.  First, as you can see, they place him opposite of an extremely beautiful dancer.  After asking the Mark's name, where he was from and so forth, the conversation went like this:
MC:  Are you married?
Mark:  Yes.
MC:  How long?
Mark:  49 Years
MC:  My, that is a long time.  Okay, what I want you to do.  You see this beautiful woman across from you?  I want you to look deep into her eyes.  Look very deep into her eyes.  Concentrate and look very deep into her eyes and….um, what did you say your wife's name was?
Mark:  Who?
DOH!
An interesting postscript to this story came when I told it to a friend of mine and his wife.  My friend's response was, "What an idiot!"   His wife had a different take on the story.  Her reaction was, "We don't stand a chance against those Polynesian women."  Just interesting to see the two very different reactions as the female reaction I didn't expect.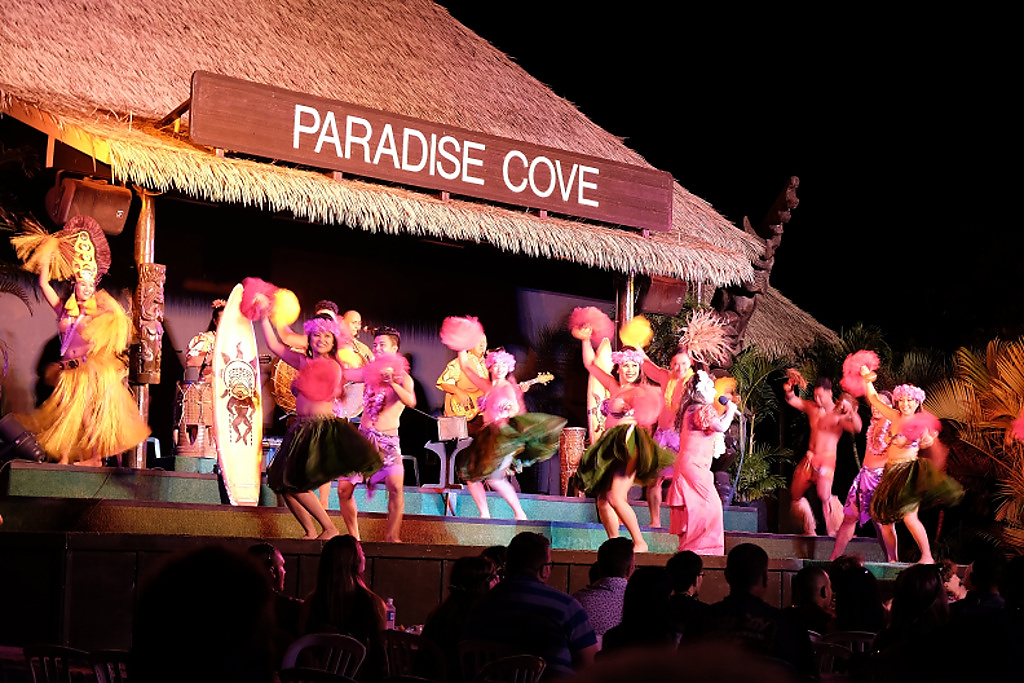 Finally, there is one last dance to say goodbye.  And so, with bellies full of food and the show still playing in our heads, it is time to leave.  Some board busses back to Waikiki while those staying in Ko Olina are able to amble back to our hotels.  Would I go back again?  Why yes, yes I would. 
Aloha!
Copyright © 2017  John J Campo