As usual, June has arrived and so has the Sacramento Wizard World Comic Con.  I decided since last year I went on the first day, I would go on the last day this year.  Different from last year was the amount of star power that was here.  Last year, to refresh your memory, we had William Shatner, Dean Cain and Michael Cudlitz.  This year Val Kilmer, Kate Beckinsale, Edward James Olmos, Nichelle Nichols, Jon Heder, Kevin Sorbo and Lou Ferrigno, just to name a few.  And, as a real blast from the past, Kato Kaelin of the OJ Simpson Trial fame was there to MC some of the cosplay shows.  Alas, I have no pictures of the celebrities because their autograph section was posted "No Photography" and was heavily patrolled by security.  So, if you wanted a picture you had to pay uo.  As for autographs, Val Kilmer and Kate Beckinsale cost $90 and the prices went down from there depending on your celebrity.
 This Comic Con also was cursed with the worst heat wave ever in June as well.  On the day I went it got to 107o outside.  The theme song for Sacramento this week is from Smash Mouth called "Walking on the Sun."  That is what it felt like.  In fact, the refrain "you might as well be walking on the sun," kept going through my head.  When I told out-of-state attendees that just 7 days earlier it was in the 60's, with wind, rain and hail for the Sacramento region with snow in the high country, they couldn't believe it.  This is probably why attendance was down.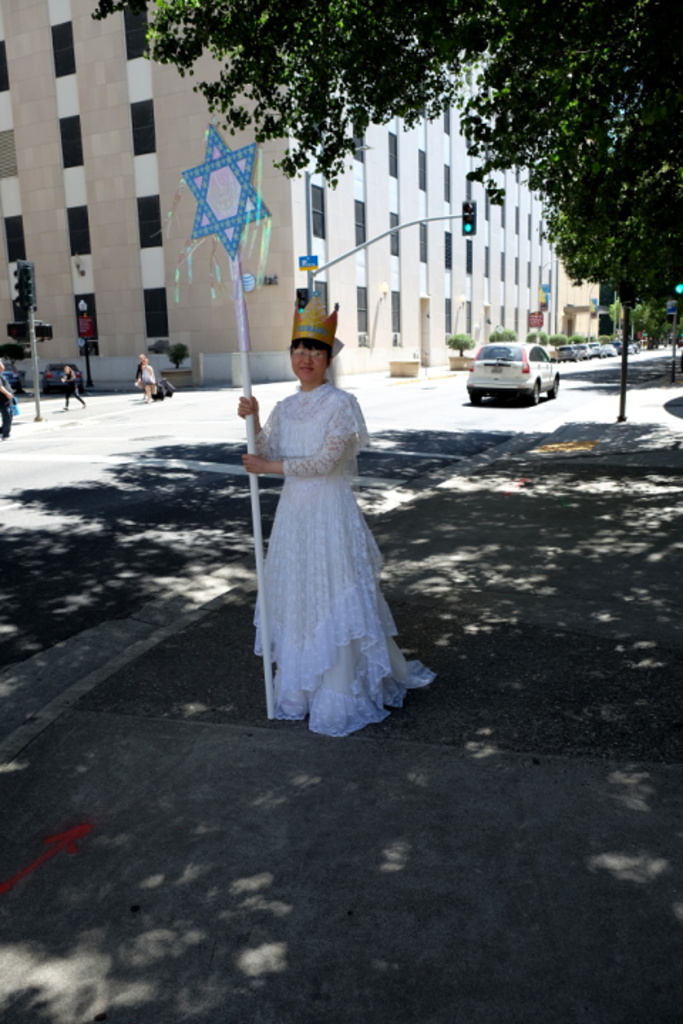 The first person I saw was this random woman just standing in the shade outside the Sacramento Convention Center. She had on a wedding dress, a paper crown that said Israel and a staff with the Star of David on it.  No one else was around.  I started to worry that the show was over. 
Normally, this area would be packed with people.  However, the temperatures were so high no one dawdled waiting for friends.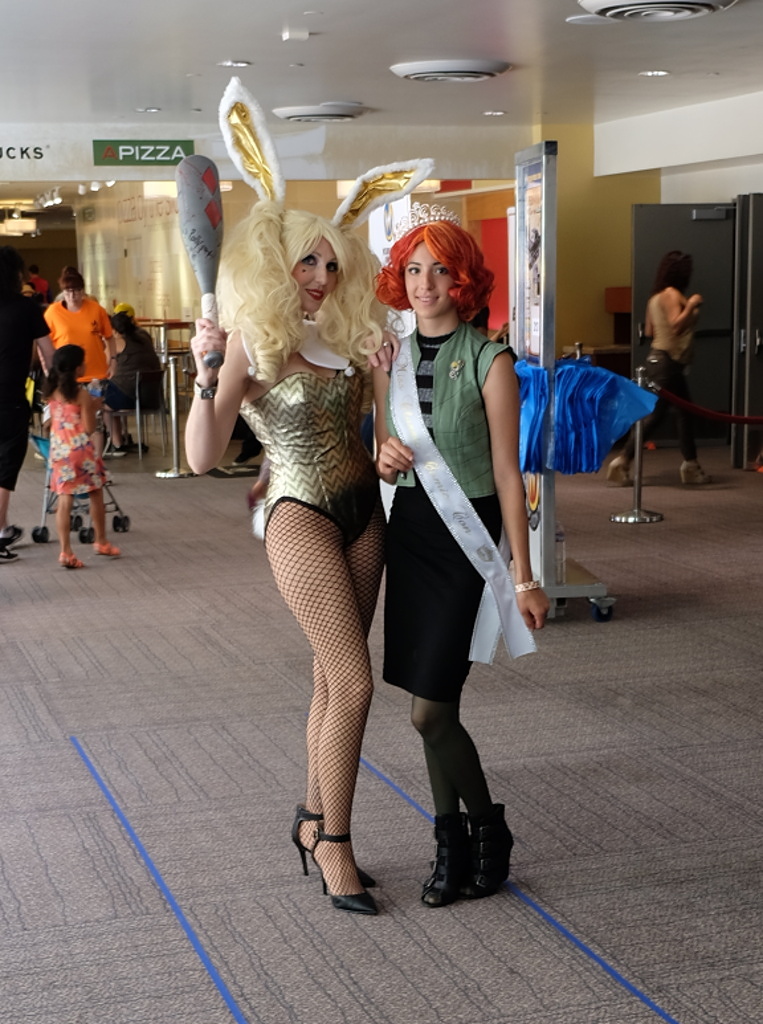 These lovely ladies were the first costumed attendees I saw once inside the air conditioned splendor of the Convention Center.  I'm sure Hugh Hefner would be afraid of this bunny.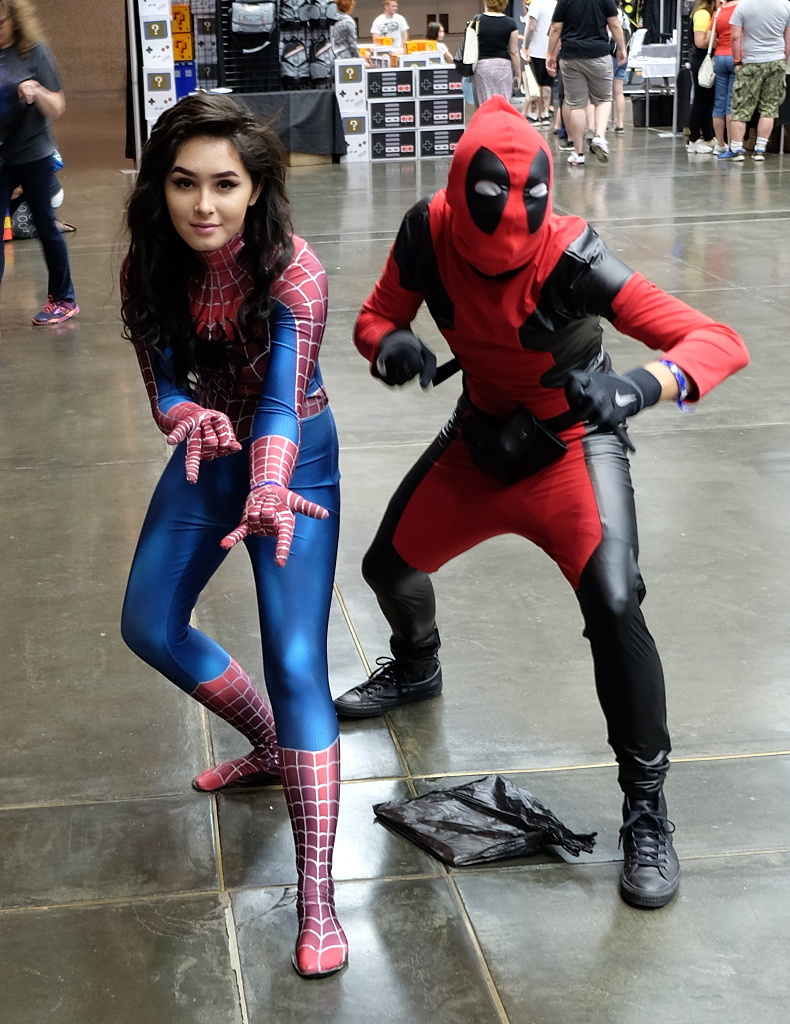 Spider Woman, sans mask, with sidekick, was just inside the Convention Hall.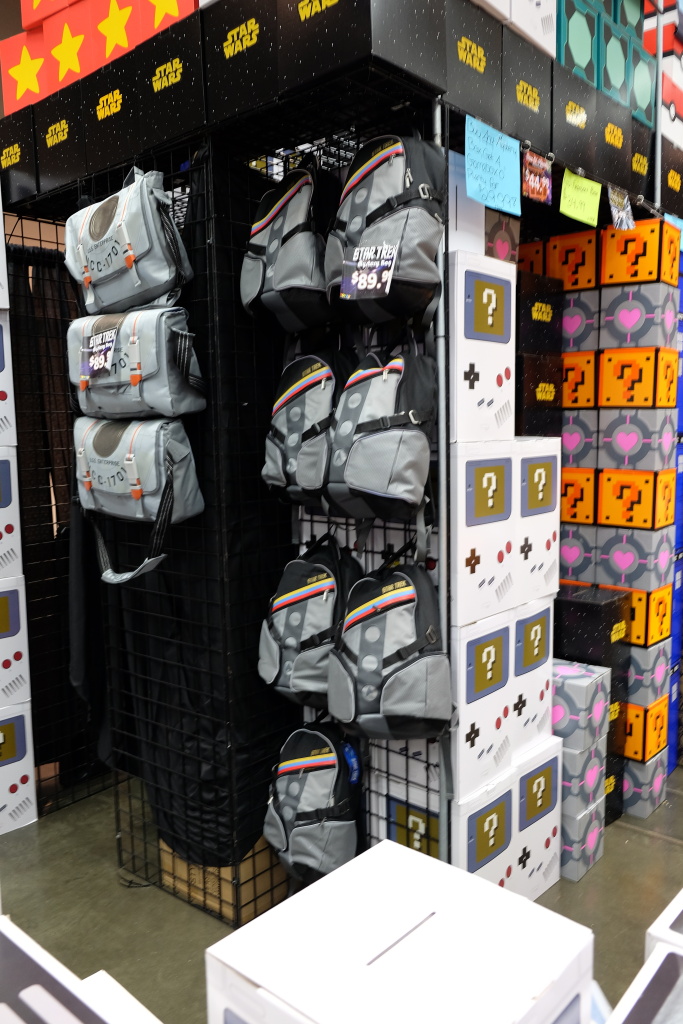 Trek Mystery Backpacks for sale.  Would you pay $90 for a pack filled with who-knows-what?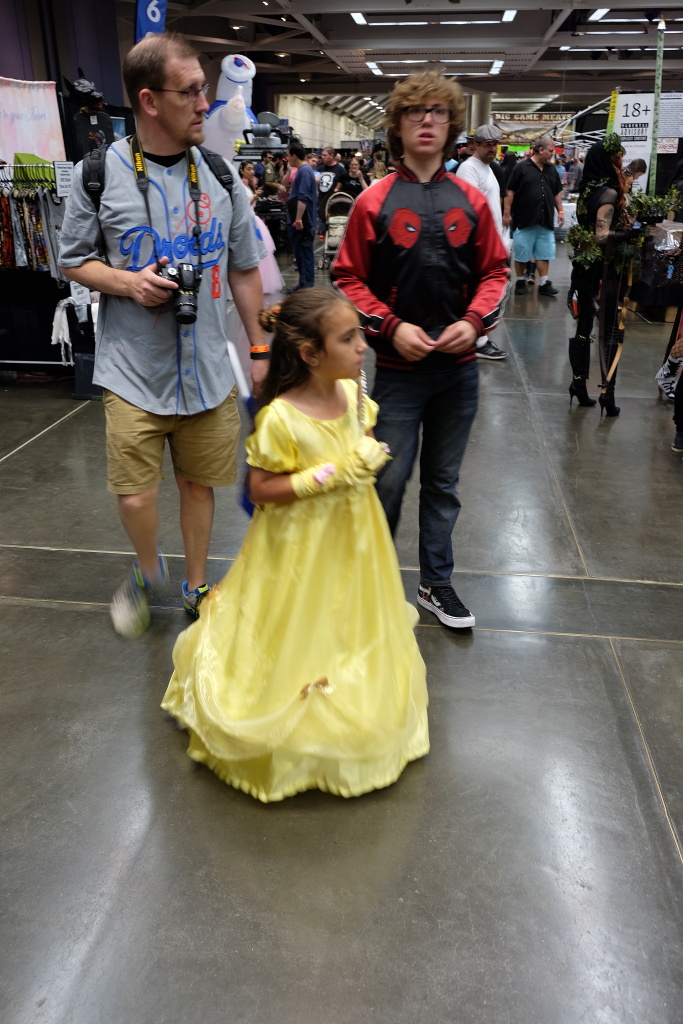 A young Belle was there with her father and big brother.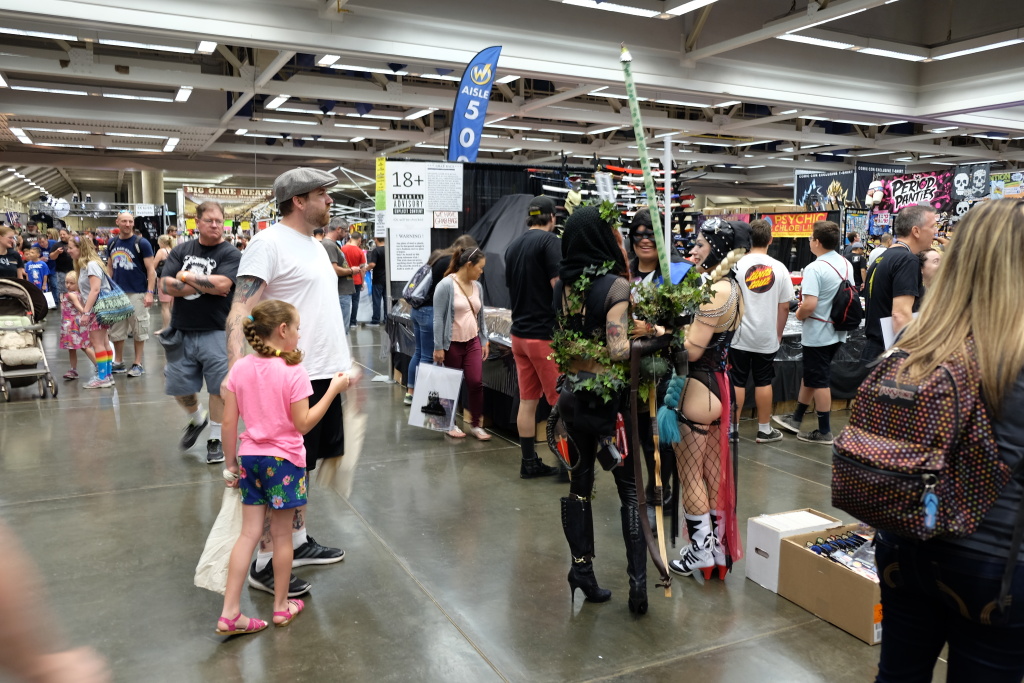 This young girl, along with her dad, was trying to decide whether to approach the ladies to have a photo taken.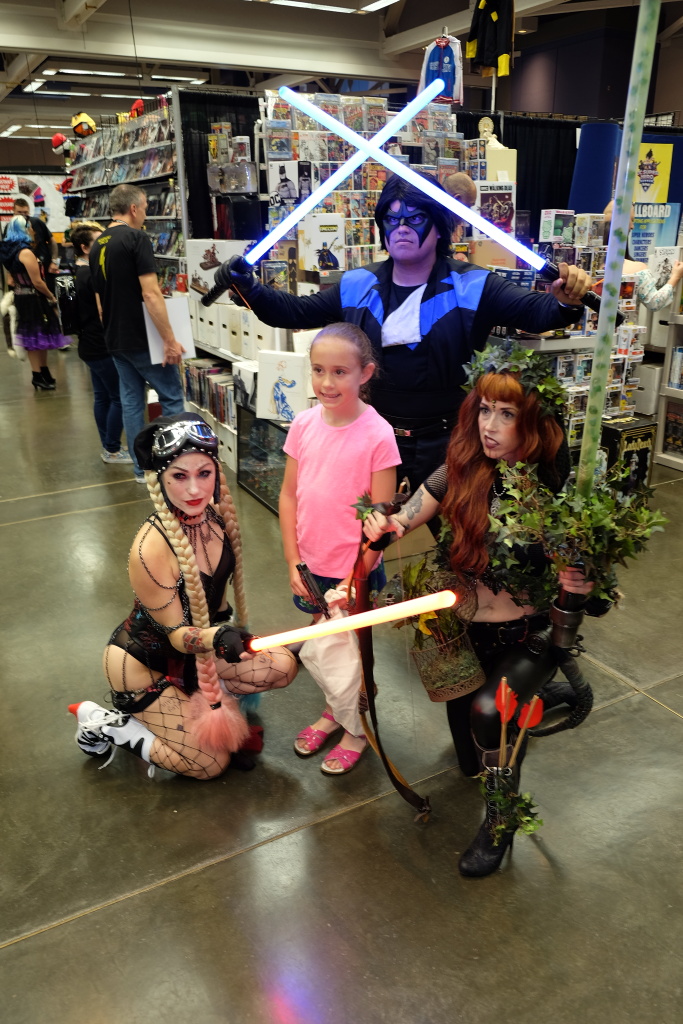 Decision made and she has nice photo to remember this year's Comic Con.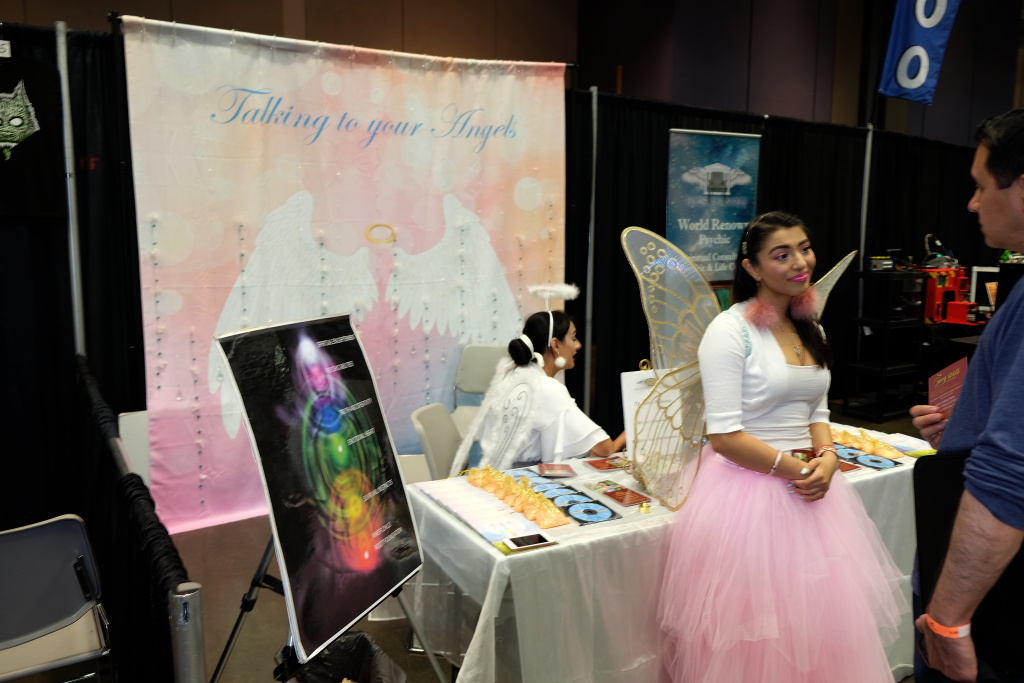 This booth was all about talking to your Angel and psychic readings.  Bet he wishes she was his angel.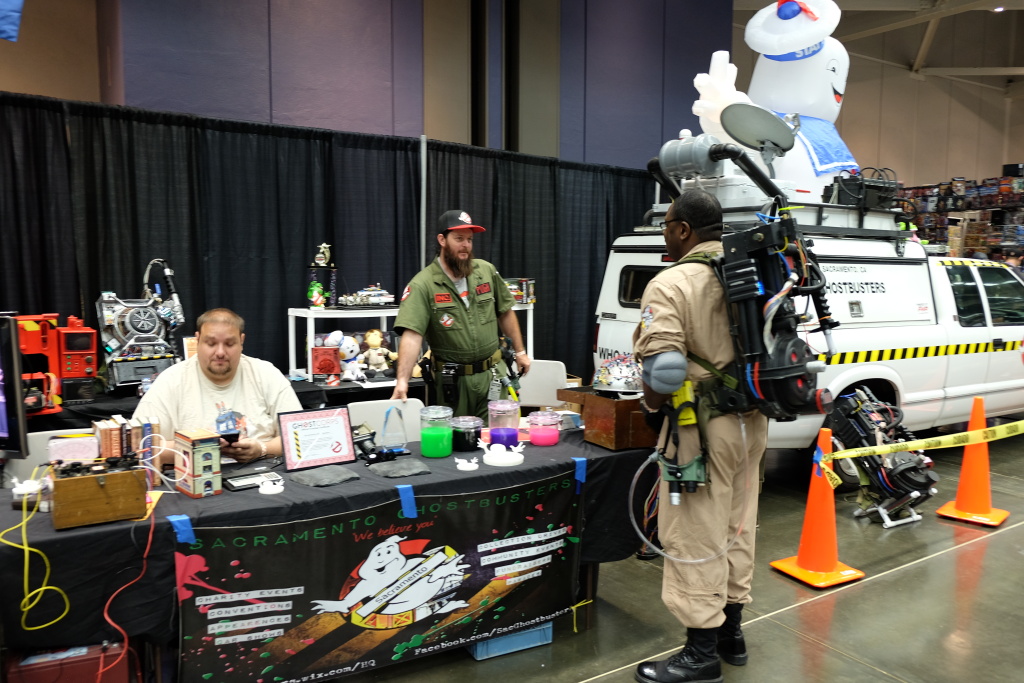 The Sacramento Ghostbusters made an appearance at this year's convention.  I did not see them at last year's convention.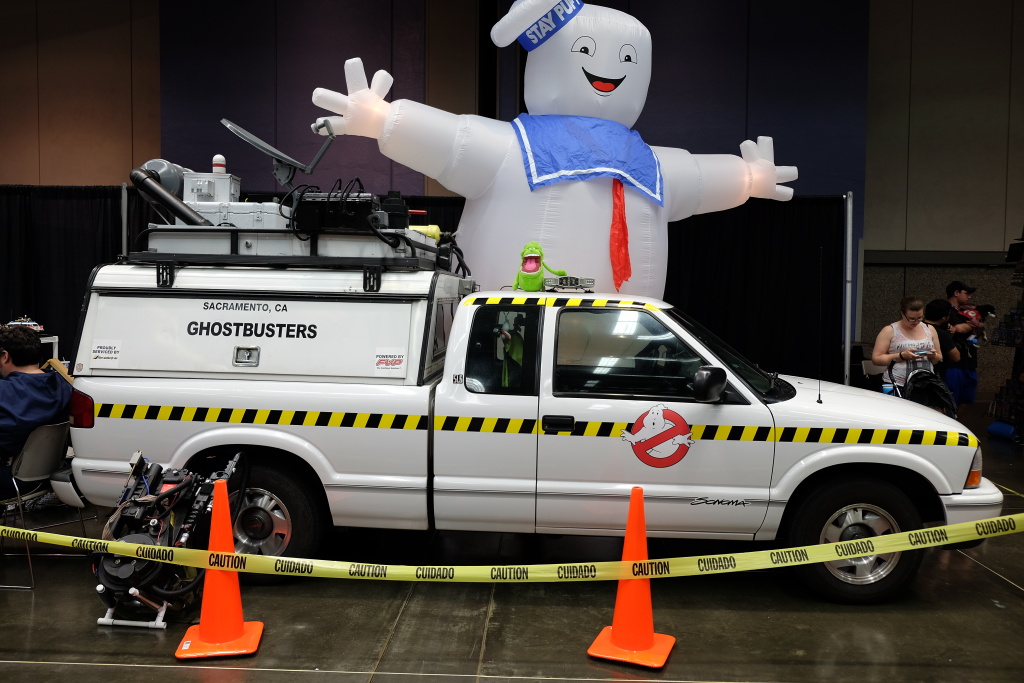 They even brought their Buster mobile and a big blow-up of the Stay Puff Marshmallow Man.  It ain't the cool ambulance but it works.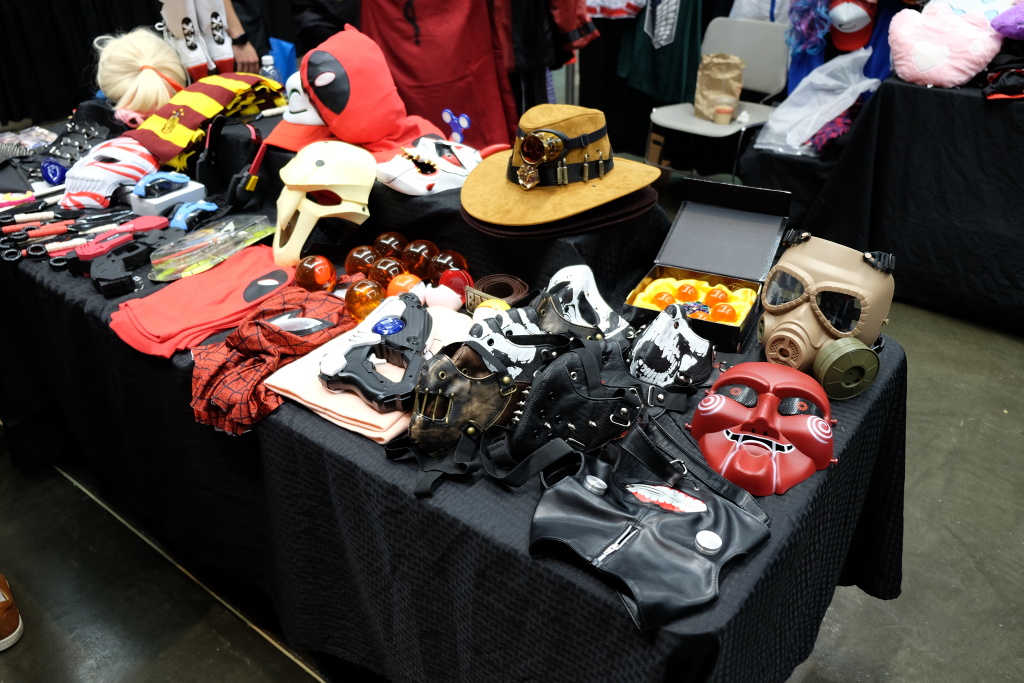 If you need a mask, this is the place to come and buy.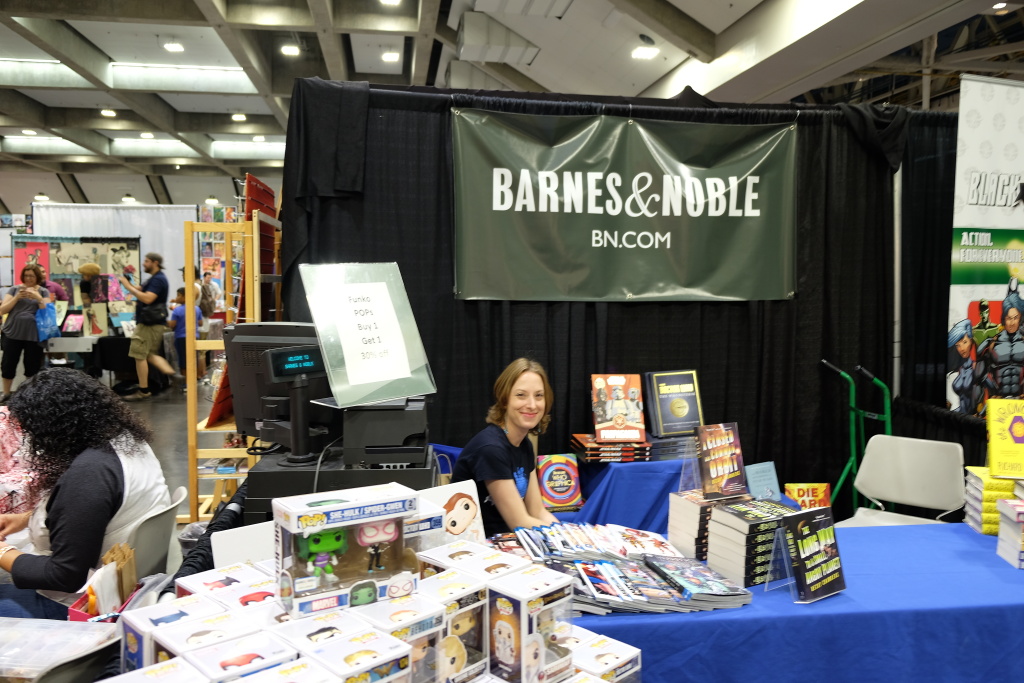 Even Barnes & Noble was there with plenty of wares to show.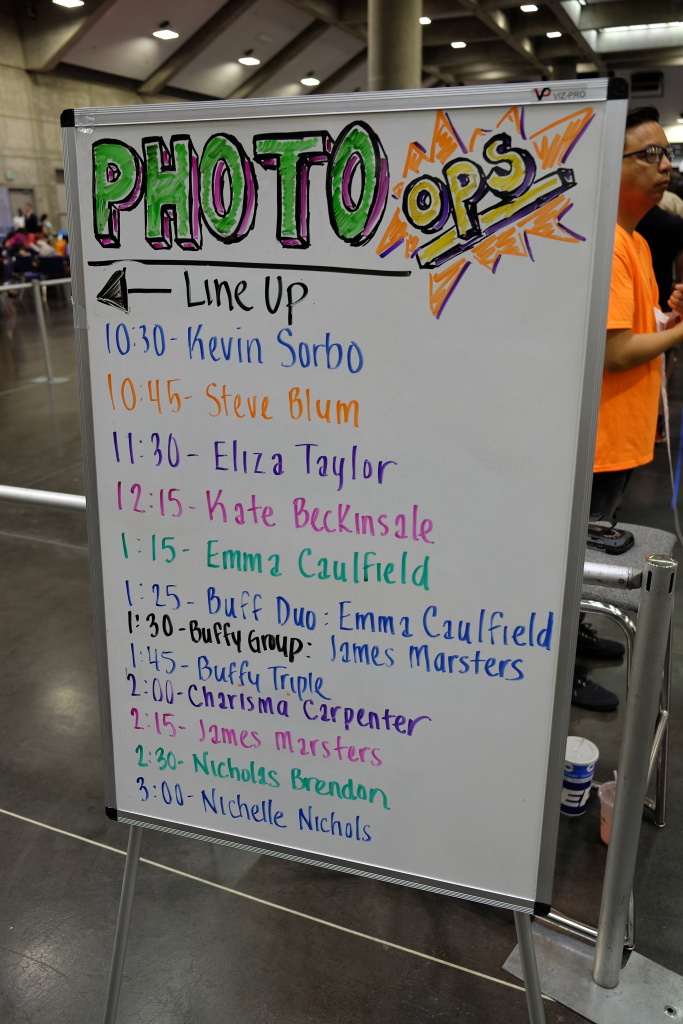 As the Photo Op board shows, there were plenty of stars at this year's convention.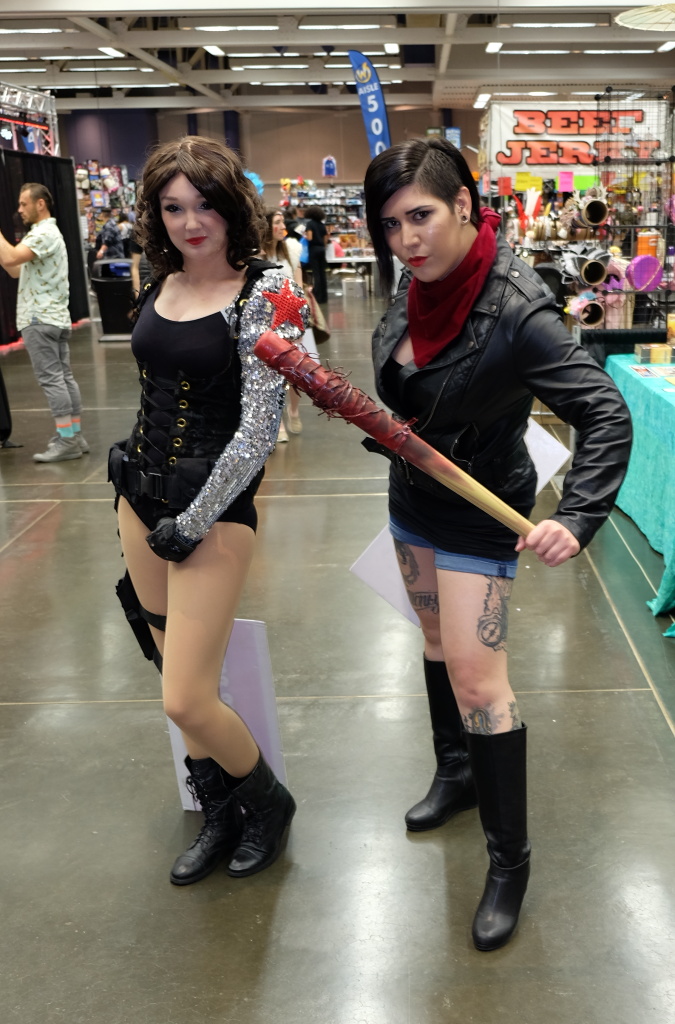 These two formidable looking women were walking around the floor.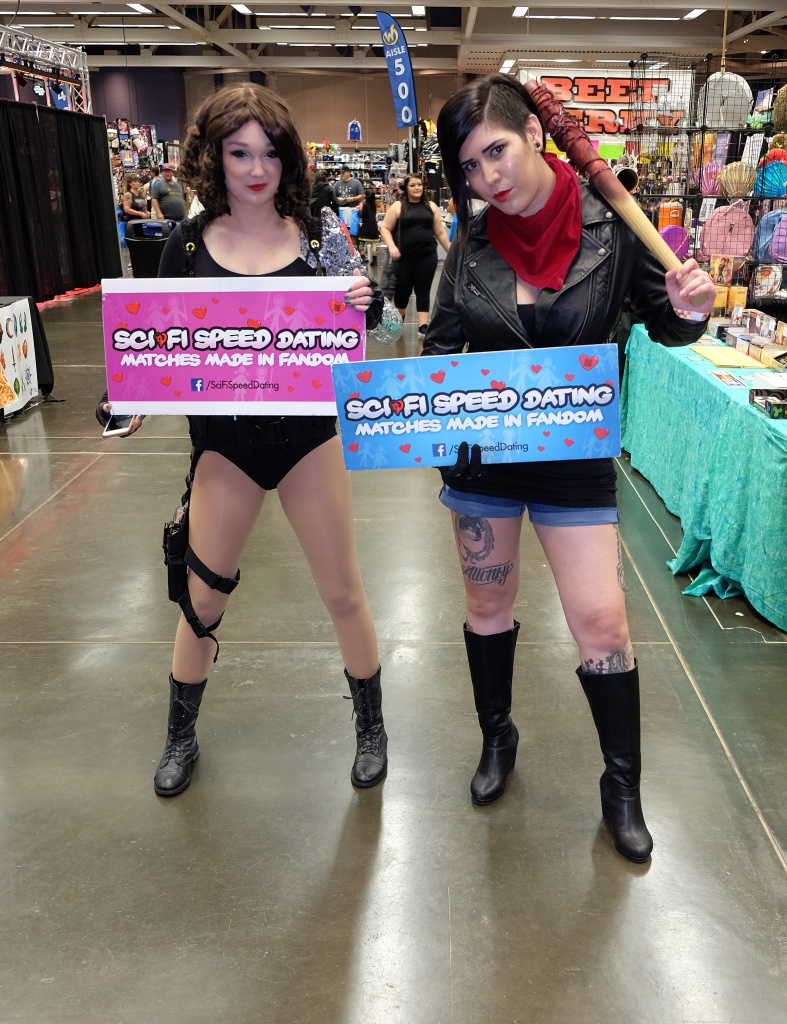 They were actually advertising for a sci-fi speed dating site.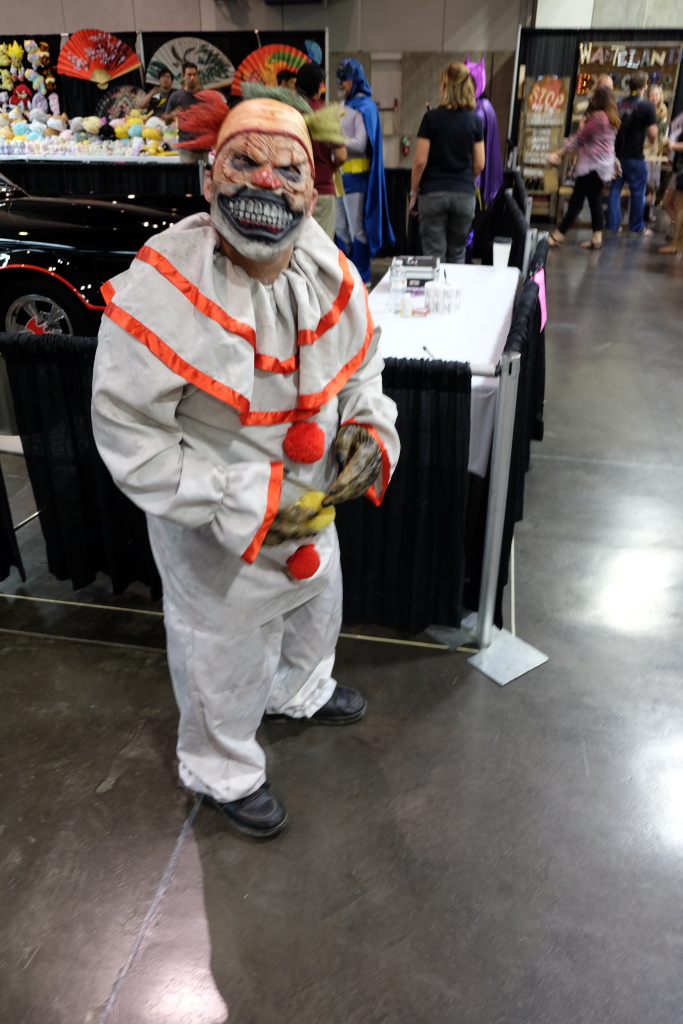 But I doubt their services will help this guy.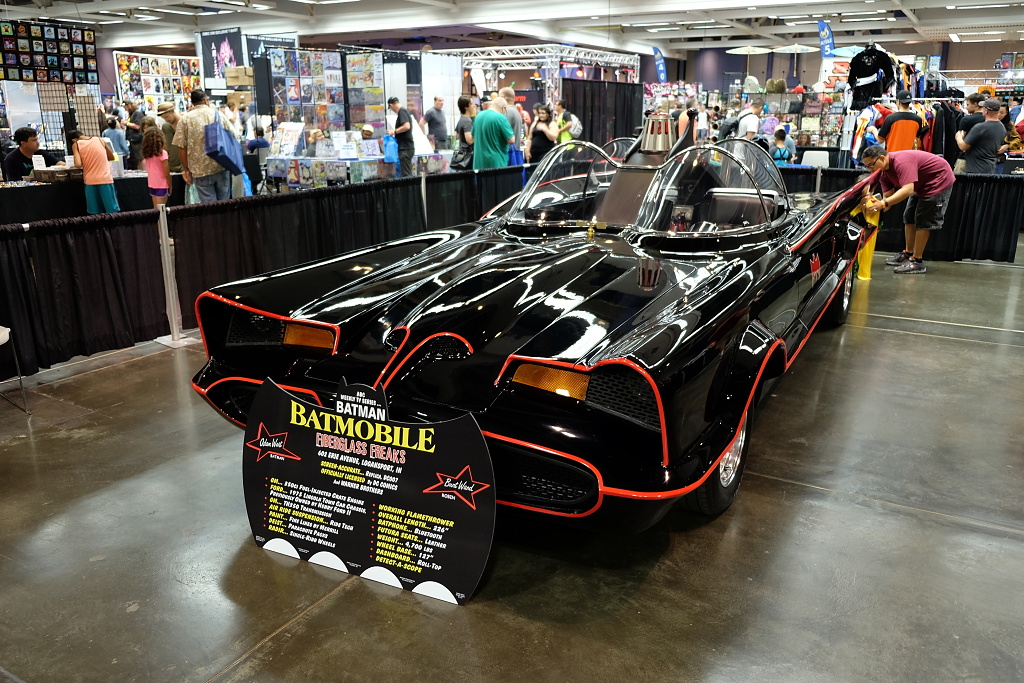 Not even hanging out by the Batmobile got him a date.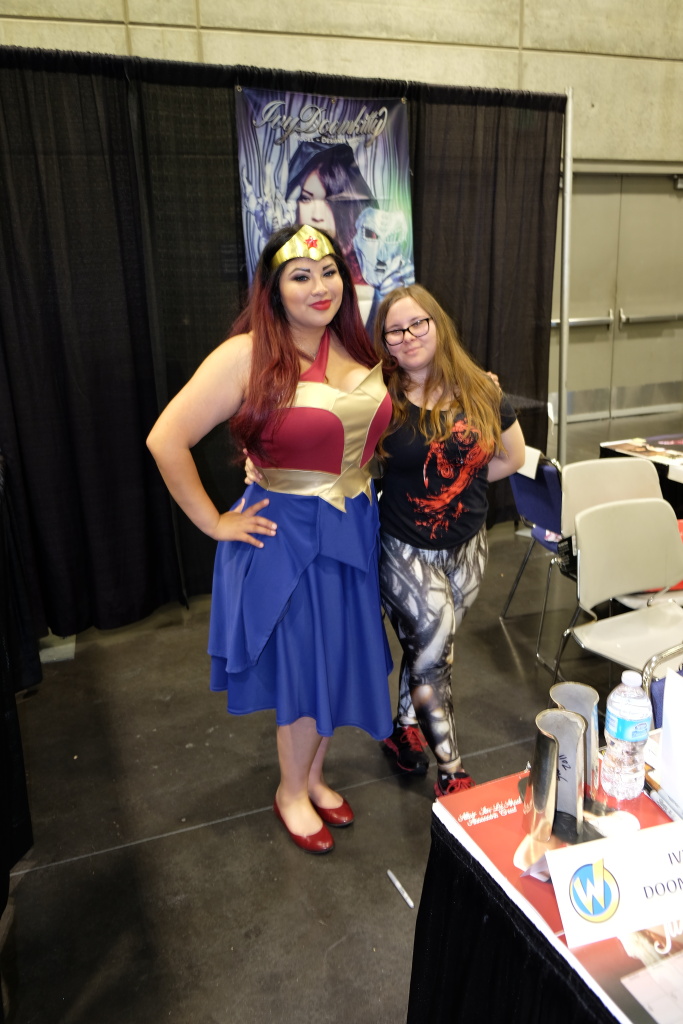 Professional Cosplayer and glamour model Ivy Doomkitty was there with her sister.  The one thing I really like about both the professional and amateur cosplayers is their willingness to pose for pictures.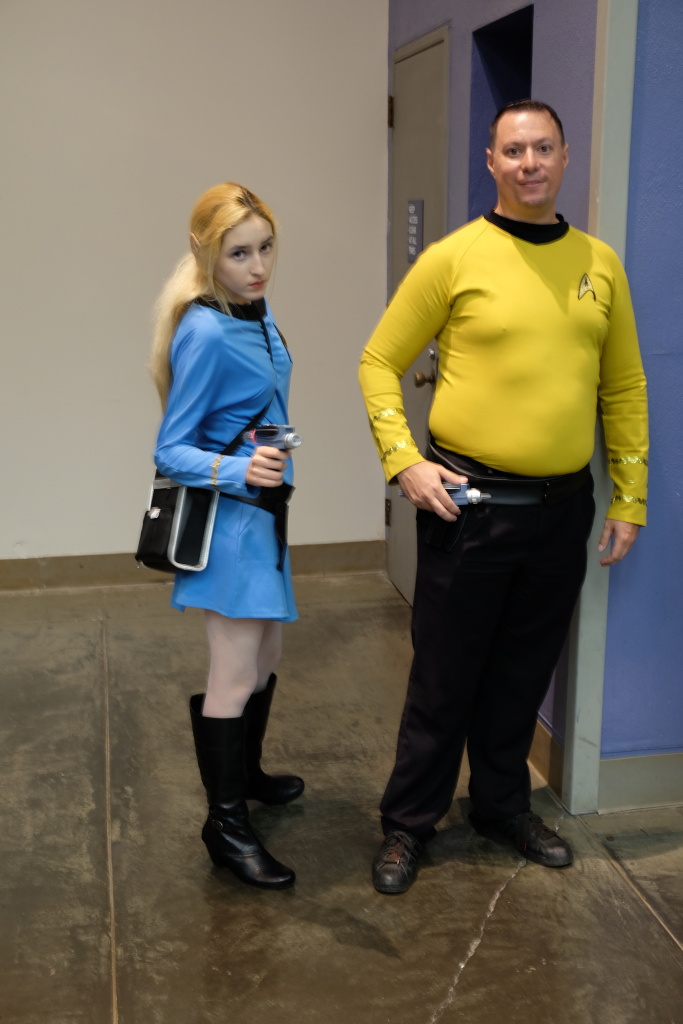 These were the only two trekkies that came out in full costume.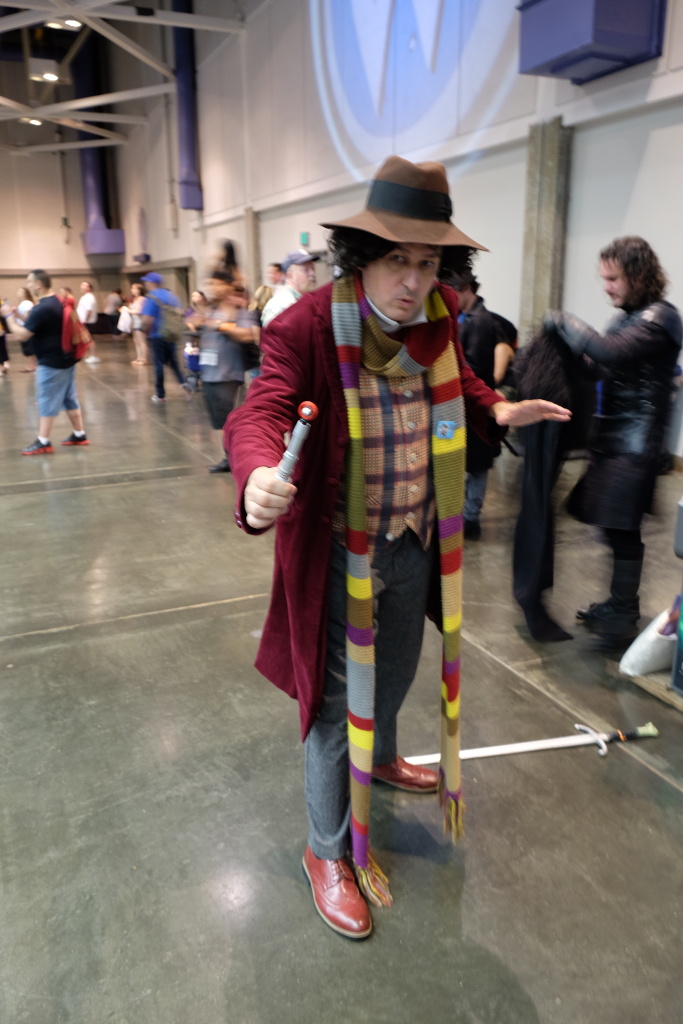 The 4th Doctor put in an appearance.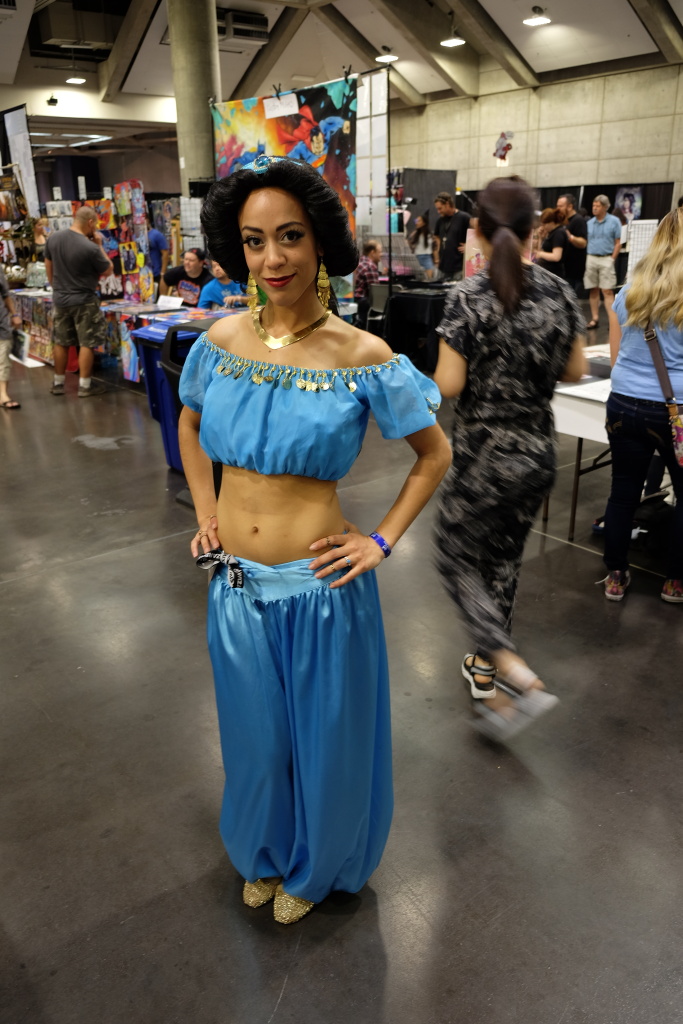 Jasmine made an appearance without Aladdin.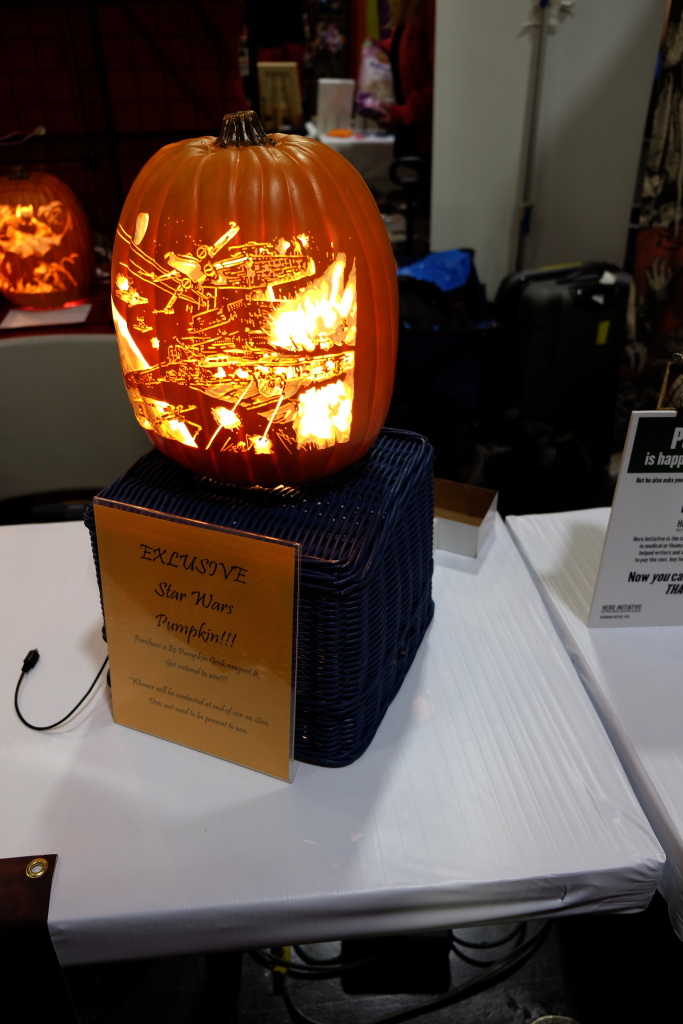 The Pumpkin Geek was there with his beautifully made forever pumpkins.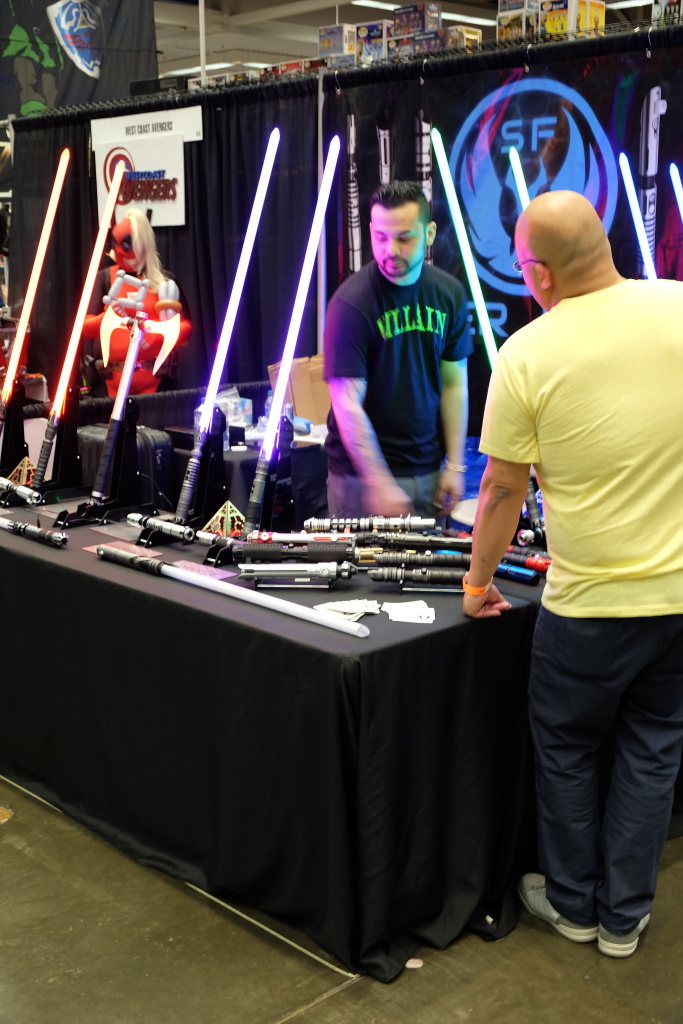 Get your custom made light sabers here.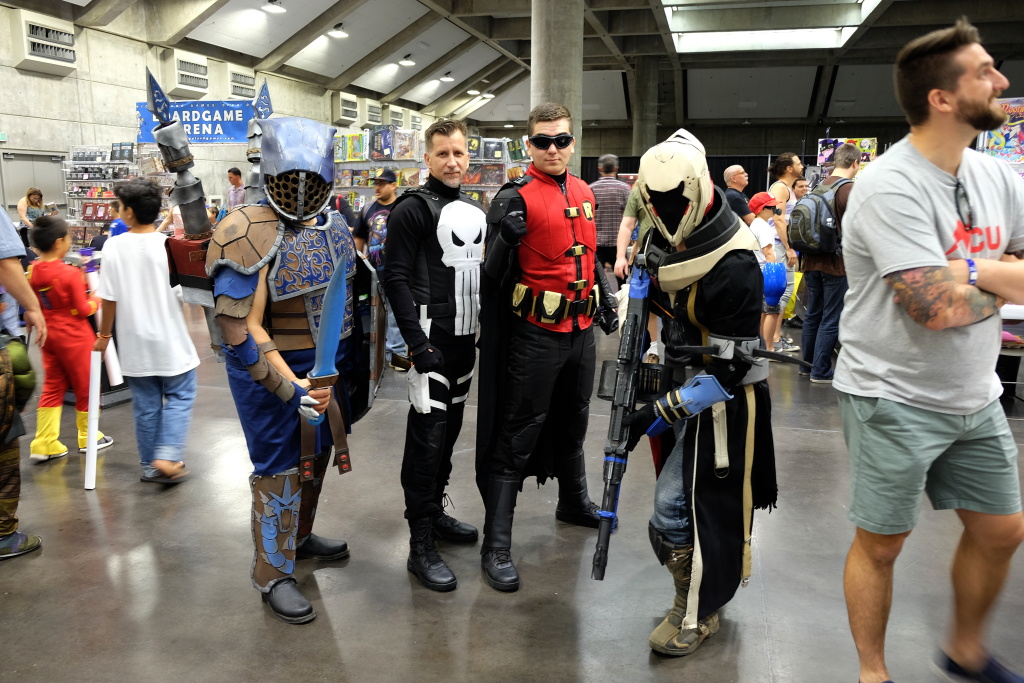 A group of super heroes walked the floor.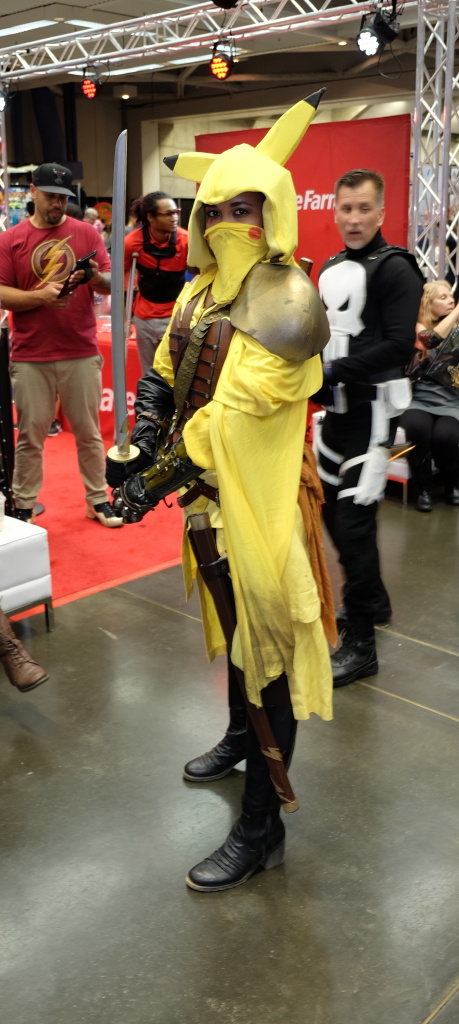 Along with a well armed Pikachu.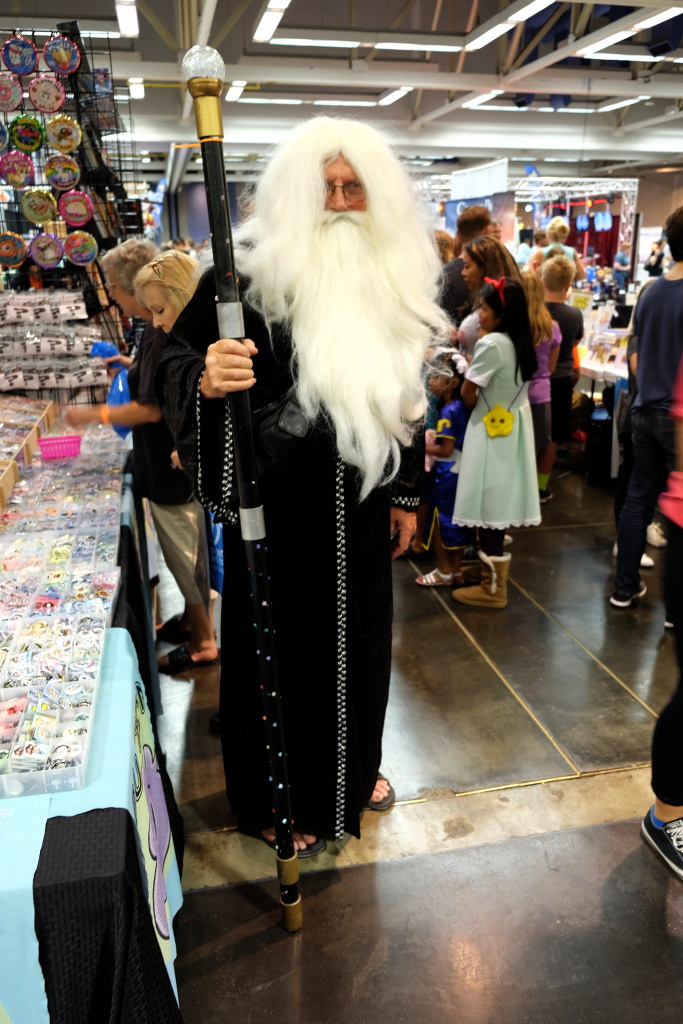 And Merlin came to escape the heat.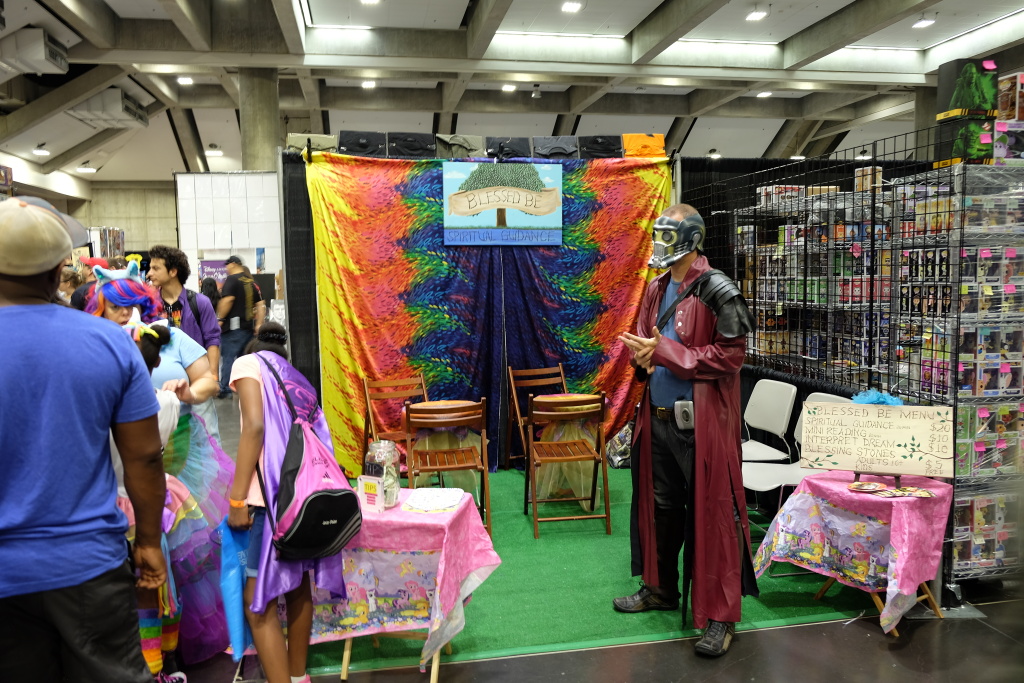 Would you look for spiritual guidance from this gentleman?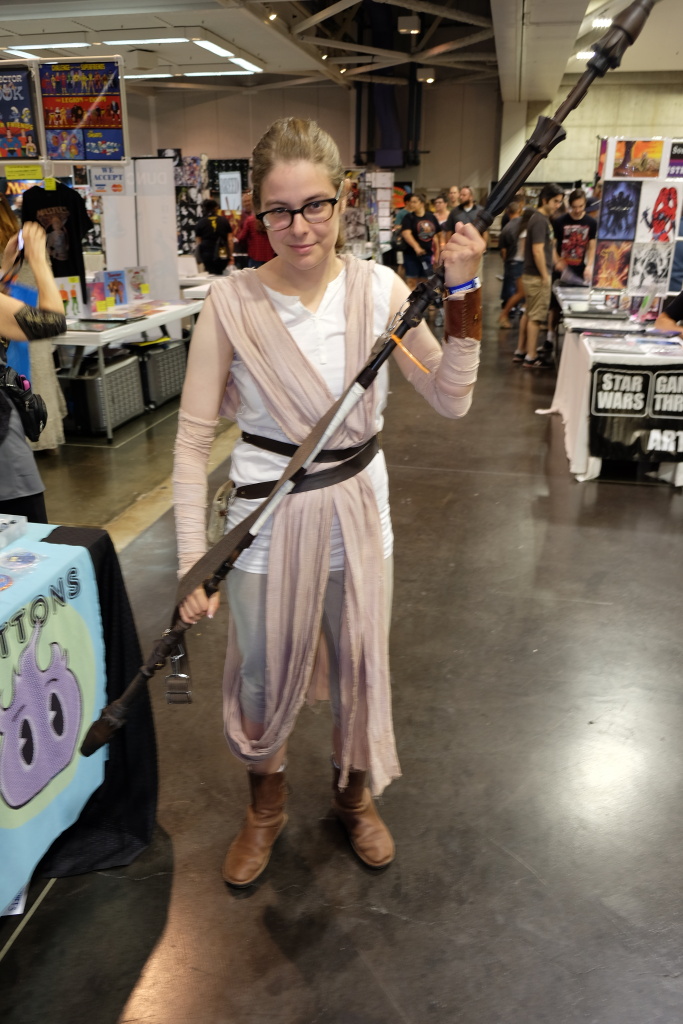 Ray said that even though she is from a desert planet, Sacramento was like walking on the sun it was so hot!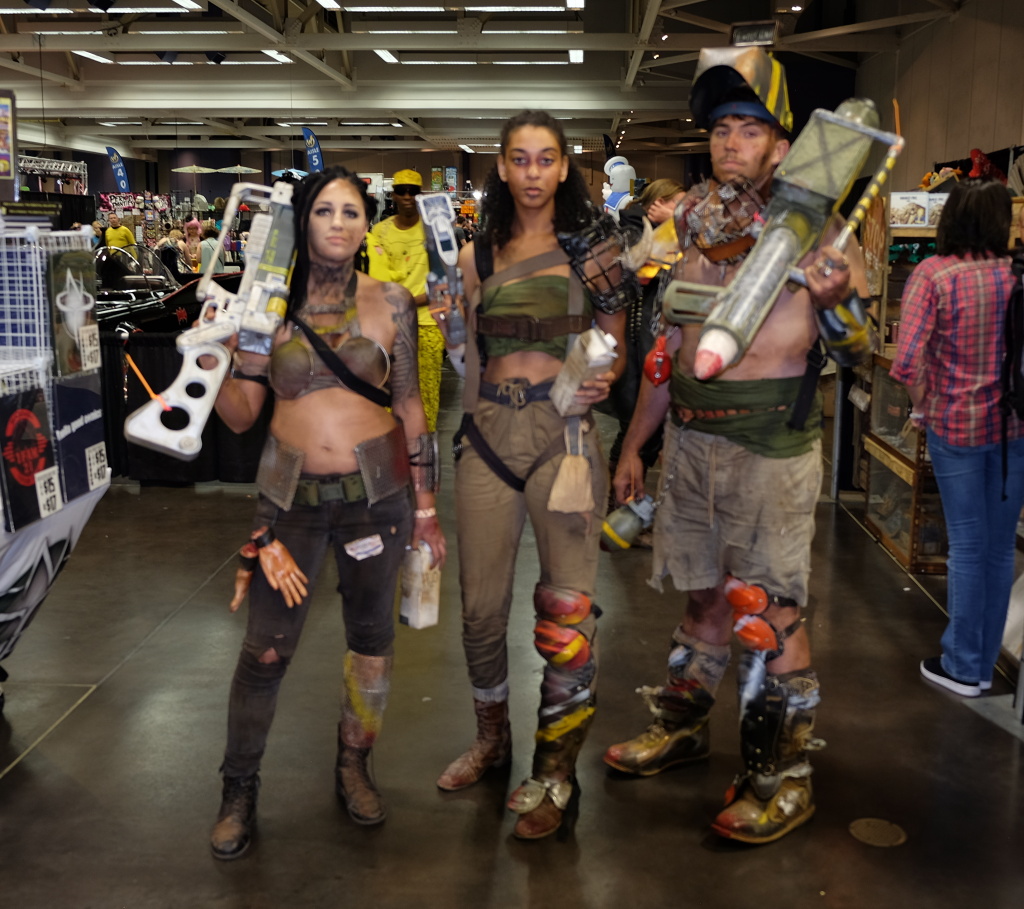 And these three formidable people came loaded.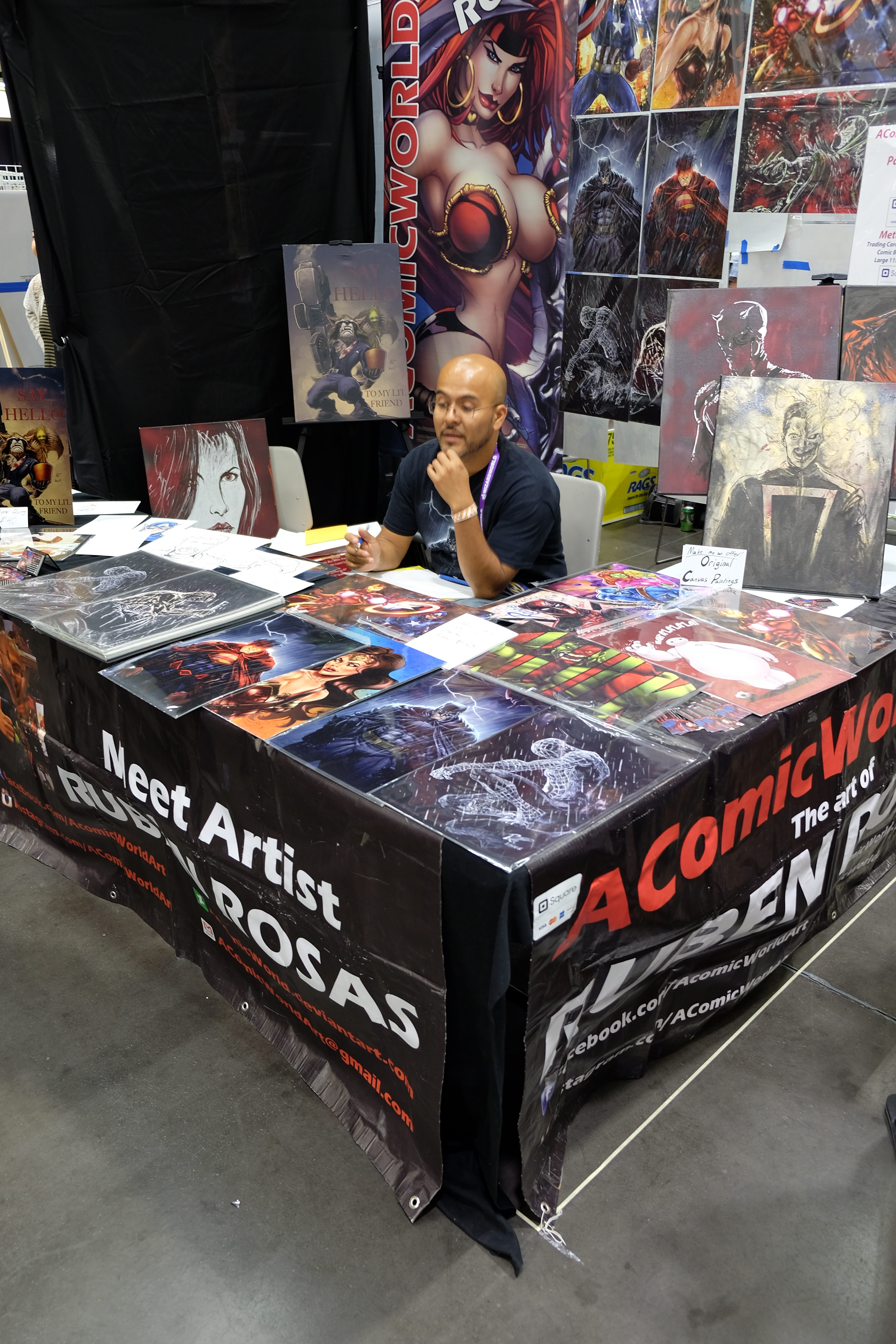 The comic book artist Ruben Rosas was on hand.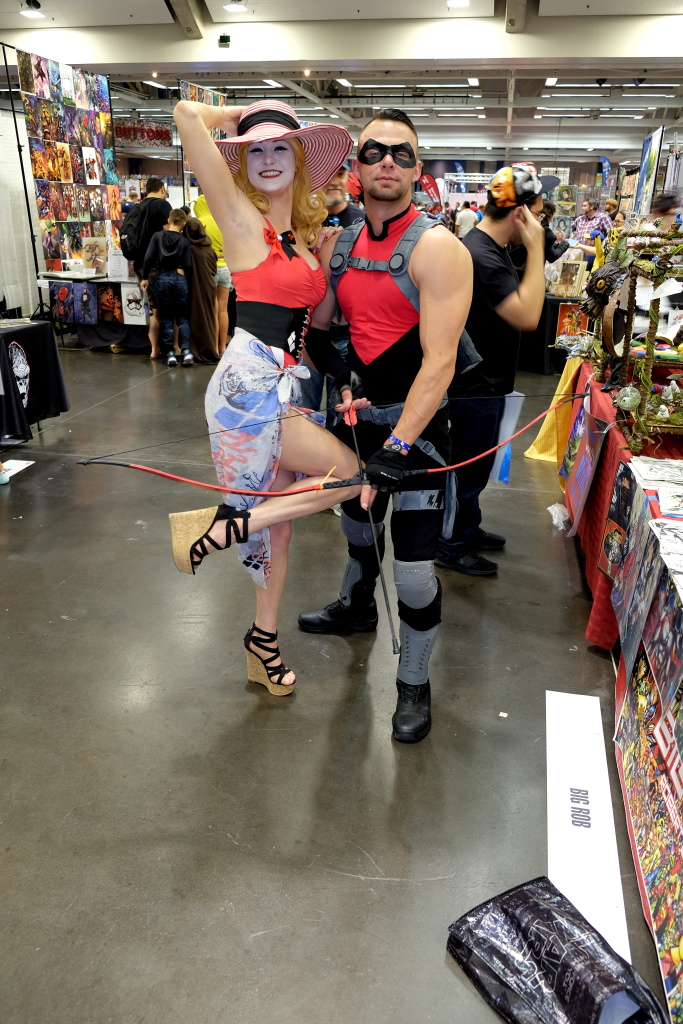 A husband and wife cosplay team showed their stuff.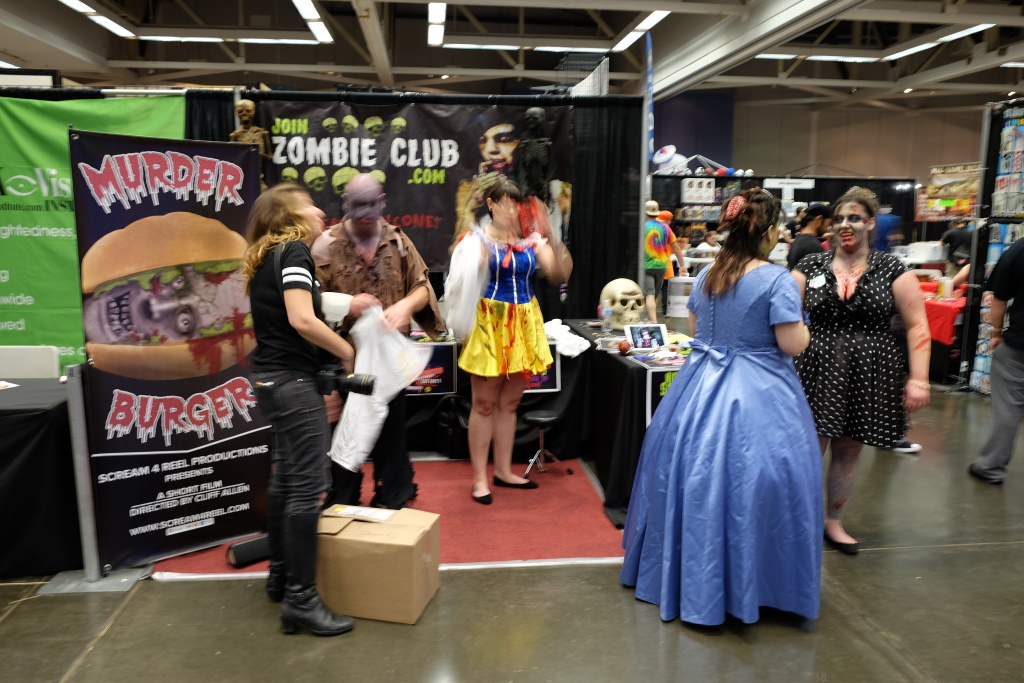 The Sacramento Zombie Club was there recruiting new members.  Zombies can't stand still for a moment!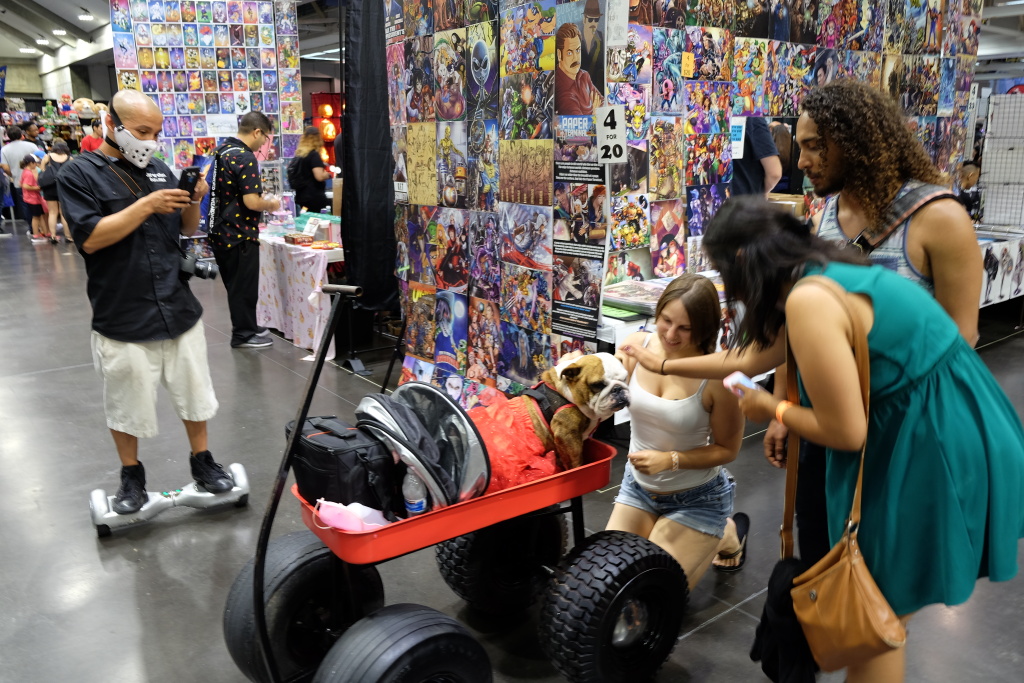 And finally, the masked gentleman on the hoverboard arrived with his wagon and bulldog in tow.  The dog escaped the heat while the hoverboader had a chic magnet.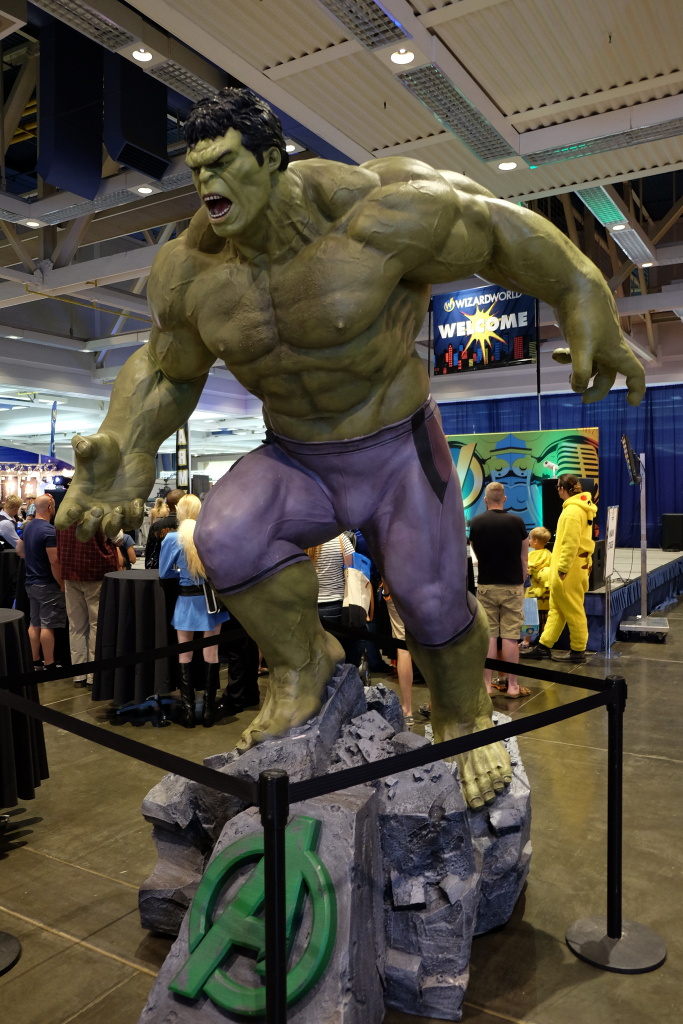 And the Hulk says to come back next year.  Maybe the heat will be gone.
Copyright © 2017 John J Campo